Extra-long Express Bus Tested in Havana
Luis Rondon Paz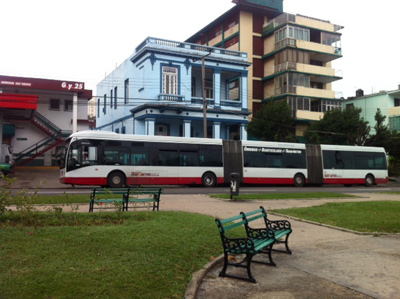 HAVANA TIMES — The Cuban Ministry of Transportation's Trans-Metro company has been operating a new articulated bus to improve the Santiago de las Vegas – Vedado service in Havana since December 22 of last year.
This novel express metro-bus operates Monday to Friday during rush hours, making a total of 17 stops, from the town of Santiago de Cuba to the interesection of 25 and G streets in Vedado, and 18 stops on its way back.
With two articulated sections and air-conditioning, the bus charges 1 Cuban peso per person. This State initiative is part of a six-month experiment. Should it yield positive results, the country will import ten additional buses from Holland and operate them in different routes around Havana.