New Novel Presented by Cuban Minister of Culture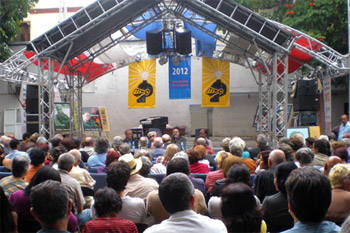 HAVANA TIMES, Feb 14 — The book Viajes de Miguel Luna (The Travels of Michael Luna), by the Cuban writer and Minister of Culture Abel Prieto, was presented yesterday afternoon to a packed audience at the Pavilion Cuba expo center in downtown Havana.
The novel, which satirically chronicles the 1989 journey of a Cuban writer in "Mulgavia" (a small imaginary nation in Eastern Europe), received words of praise from leading intellectuals such as Graziela Pogolotti and Eduardo Heras Leon.
Prieto, who has been the minister of Culture for the past fifteen years, explained that it took him eight years to write the novel, which also includes 52 drawings.
The launching of the work came in the midst of rumors circulating about Prieto's health and his possible imminent departure from his office. Fueling that speculation was his not being included on the powerful Politburo of the Communist Party, as was the custom, following last year's congress of that organization.