New Round in War Between Cuban Gov. and Private Collective Taxis
Havana to boost bus service after restrictions create taxi shortage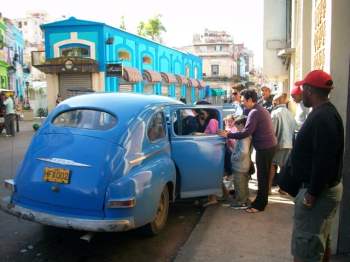 HAVANA TIMES – Cuba will boost public transport in Havana with 490 buses after stricter regulations for private taxis led to a transport shortage, local media reported on Friday, reported dpa news.
The new rules include stricter technical controls, set routes and fixed prices for taxis. Such measures have been made numerous times in the past, but to unsuccessful results, only worsening the deficient transport situation.
The authorities have also started controlling their fuel consumption after it was suddenly "discovered" that many taxi drivers did not buy their fuel from petrol stations, but from drivers of state vehicles who were stealing fuel allotted to them. It's no secret in the trade and on the street that this practice has been going on for decades.
The stricter technical requirements led to 2,167 taxi licenses being cancelled in the Cuban capital, putting the owners out of business.
Other taxi drivers have voluntarily given up the licenses, saying the new rules made it impossible for them to make a living.
Ninety new regular size buses and 400 smaller, 12-seat minibuses will be added to Havana's 700-strong fleet in January, the website Cubadebate quoted Transport Minister Adel Yzquierdo as saying.
Buses and taxis transport more than 1 million Havana residents daily, which amounts to half of the city's population.
Public transport users in the capital note that such announcements of added buses usually mean some months of improvement in certain areas of the capital, and then things go back to how they were, or even worse, after the many breakdowns from excessive passengers and/or a lack of maintenance. Off and on fuel shortages also keep many already existing buses from being used at route capacity.