Nicaragua Braces for Hurricane Otto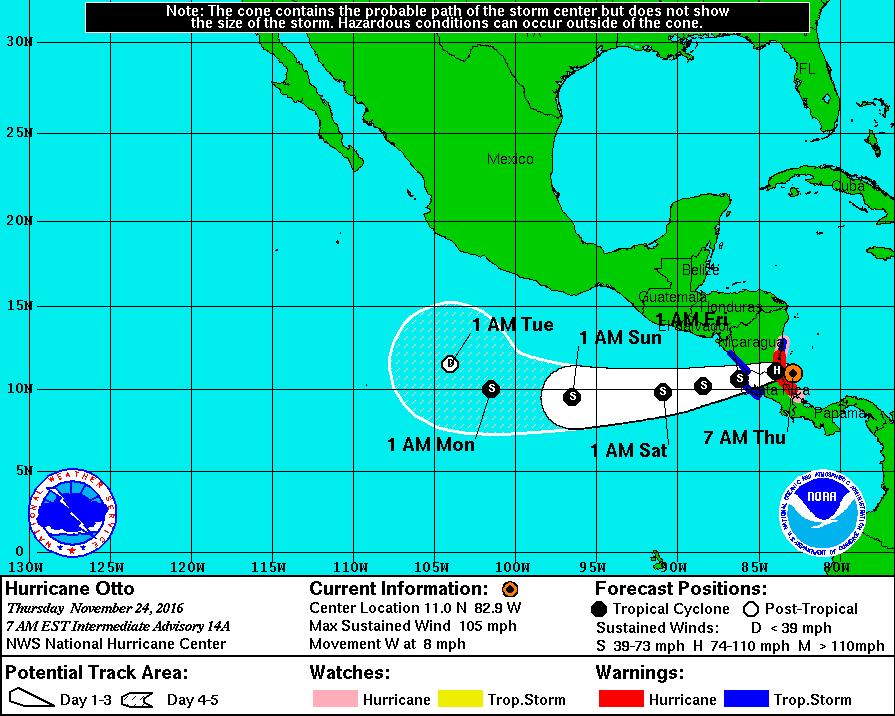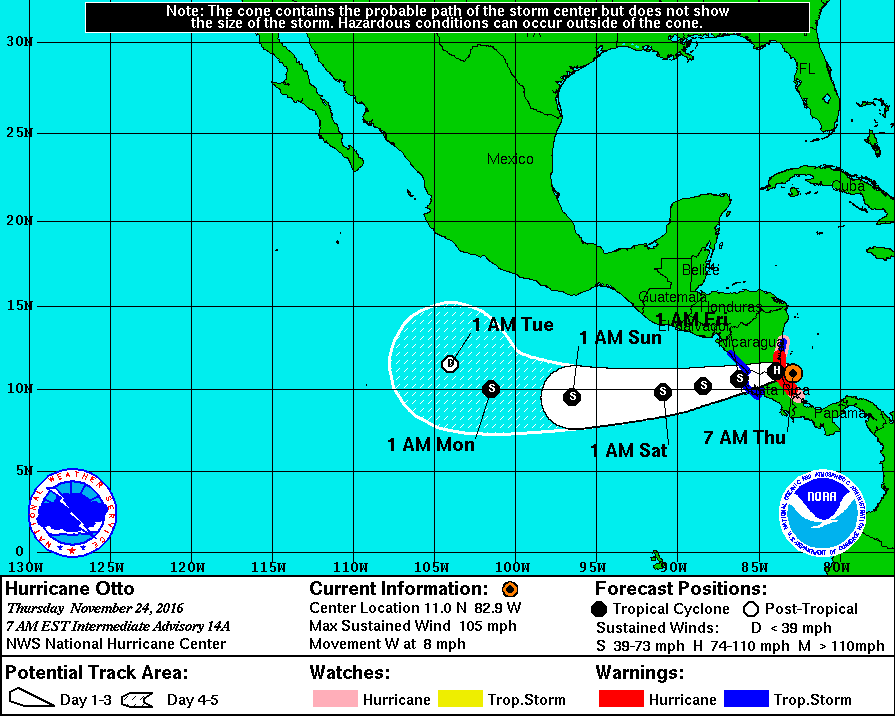 HAVANA TIMES — Hurricane Otto is expected to reach land possibly on late Thursday morning or early afternoon.  It currently packs 105 mph winds and is moving west at 8 mph (7 a.m. EST).  The center is expected to pass somewhere close to the Nicaragua – Costa Rica border and then continue on west, notes the National Hurricane Center,
Both governments are on maximum alert as the storm approaches. While Nicaragua has faced powerful hurricanes in previous decades Juana (1988) and Mitch (1998), Costa Rica has never recorded being hit by a hurricane.
A hurricane warning is in effect from Bluefields, Nicaragua to Limon, Costa Rica. A tropical storm warning is in effect for the entire area where the Otto and its outer bands are expected to pass in the border region of the two countries en route to the Pacific Ocean, from Puntarenas, Costa Rica to Puerto Sandino, Nicaragua.
Massive evacuations took place in the lead up to Otto in the Nicaraguan municipalities of Bluefields, Monkey Point, Corn Island and Pearl Lagoon in the South Atlantic Region.
The Costa Rican government ordered the compulsory evacuation of some 4,000 people in the North and South Caribbean as a preventive measure. Most of these people were moved by Wednesday to safer areas, noted dpa news.
Heavy rainfall is expected to begin falling sometime on Thursday and continue through Friday and the government warned of the risks of floods and landslides.  Classes were cancelled in Nicaragua at all levels of education.
Meanwhile, Panama reduced the level of alert to green after the passage of "Otto", although maintained a level of yellow alert for the Caribbean province of Bocas del Toro, bordering with Costa Rica, informed today President Juan Carlos Varela.
The official report so far acknowledged three people killed and three others missing, as well as substantial material damage caused by the hurricane, which did not enter the mainland but caused heavy rains and strong winds.