Nicaragua Exile Caravan Protests on the Southern Border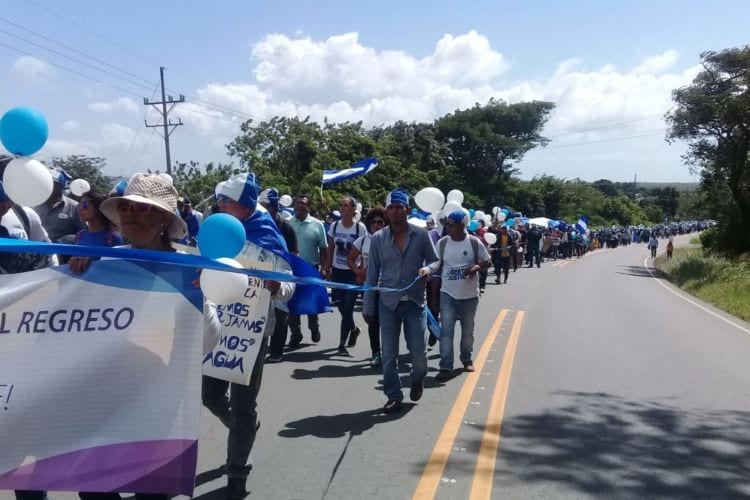 Hundreds of Nicaraguans exiled in Costa Rica participated in the Caravan for freedom and justice
By Julio Estrada Galo (La Prensa)
HAVANA TIMES – Over 600 Nicaraguans exiled in Costa Rica participated this Sunday in the Caravan for freedom and justice that left San Jose for the border with Nicaragua six hours north.
Seventeen buses set off shortly after dawn for their protest against the regime of Daniel Ortega.
After arriving near the border, the participants carried out a march demanding the release of political prisoners and justice for the several hundred murdered by the regime.
Together we are a volcano!, Free homeland to live! Viva Nicaragua libre! Freedom for political prisoners!, were some of the slogans shouted by the exiles, who marched with blue and white flags and photographs of the victims.
"We are exiles but not defeated. Someday we will return to our country," said one of the participants.
The Nicaraguans who are exiled in Costa Rica set off early in the mornith this Sunday from downtown San José. There are around 800 participants, according to the organizers. Many carried crosses in honor of the dead left by the government's repression since April 18.
When they arrived in La Cruz, Guanacaste, the demonstrators placed 500 crosses in honor of the dead during the protests in Nicaragua.
Nicaraguans in exile are making a clear statement to the dictatorship, "enough of the repression," said Marianela, one of the participants of the Caravan for freedom and justice.
"We will take whatever steps are necessary for the freedom of Nicaragua. We know that the dictatorship has to go," she Marianela.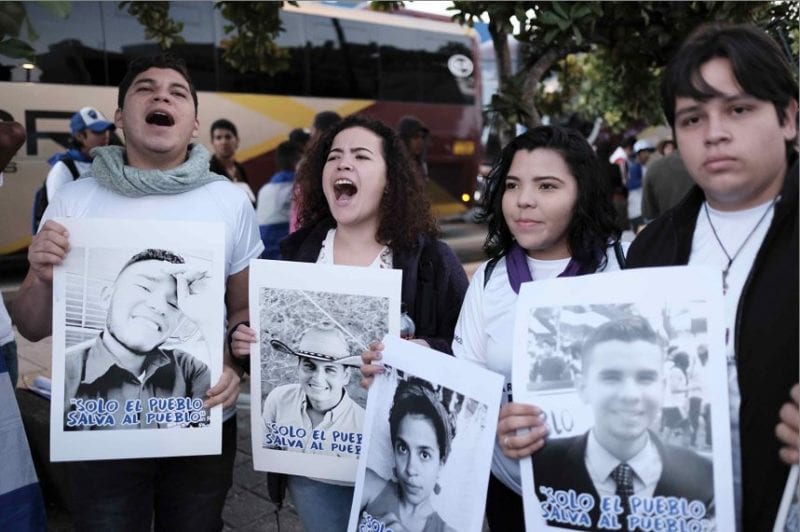 Kevin, another citizen who has joined this caravan, demanded justice for the more than 500 victims of Ortega's repression in Nicaragua. "Their only crime, like all Nicaraguans who protested, was to demonstrate against the unconstitutional dictatorship of Nicaragua," he said.
Rural leader Francisca Ramirez took part in the caravan. The anti-canal law activist has been in exile since September. "This is the beginning of the organization to return to our country, which is our homeland, and we will fight for it as we will also fight for the freedom of the political prisoners who are paying a price for Nicaragua to be free, and for those who offered their lives. Here we are saying that we are with them," said Ramírez.
Félix Maradiaga, director of the Institute of Strategic Studies (Ieepp) and Luciano García, president of Hagamos Democracia, both exiles, also participated. The Ortega regime canceled the legal status of the organizations headed by Maradiaga and Garcia.
"There are no borders that can separate us from the entire Nicaraguan people because we are united in a single mission: to liberate our country," was part of the speech of the human rights defender, Monica Lopez Baltodano upon arriving at La Cruz.
This caravan, according to Lopez, "is our way of embracing every oppressed Nicaraguan, every political prisoner, every person hiding out in safe houses, every mother of those killed and imprisoned."
—–