Nicaragua: March Set for Saturday Demanding Release of All Political Prisoners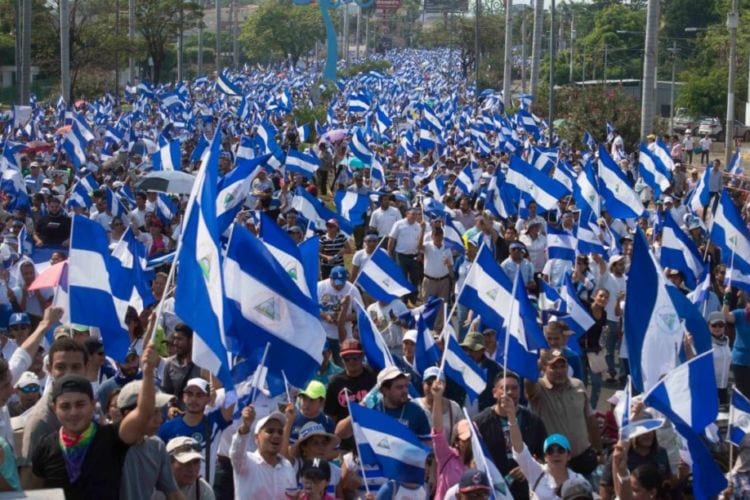 Marches by anyone other than the government were prohibited by the Ortega police since last September, when he threatened to jail anyone promoting them.
HAVANA TIMES – The National Blue and White Unity movement (UNAB) convoked today a demonstration in the streets for this Saturday, March 16, to demand the "absolute and unconditional" freedom of the hundreds of prisoners arrested for protesting against the regime of Daniel Ortega.
"We call on all the organizations that make up the Blue and White Unity movement, and on the citizens in general to mobilize for the unconditional and absolute freedom of all the political prisoners," the coalition announced in a declaration.
The announcement went on: "we're convoking the population to mobilize and return to the streets. We'll go out together with the citizens, the political exiles and the Nicaraguan diaspora this March 16," despite the prohibition of this kind of demonstration issued by the Ortega Police.
Unofficial marches were prohibited by the Ortega-directed police force in Nicaragua last September. At that time, the ruler threatened to jail anyone promoting them. Last January, the Nicaraguan business leaders agreed to cancel a demonstration that they had called, after the police denied them a permit.
Police accuse them of participating in a Coup plot
At the time the ban was announced, Olivio Hernandez, head of the Office of Public Safety, stated that the police had decided "not to authorize any activity that could expose people, families or property to danger; that alters the public order, the social rights and the Nicaraguan families' right to peace." The police chief justified the decision to deny the permits by saying: "those requesting were participants in the failed coup d'etat attempt in April of last year."
According to the police, the business leaders "acted criminally against the Nicaraguan Constitution, attempting to bring institutional change through violence and terror."
On Thursday, the same day that the National Blue and White Unity Movement issued the call for a march, conversations with the government were resumed, The Civic Alliance for Justice and Democracy, the opposition contingent in the negotiations with the government that began on February 27, is a member of the National Blue and White Unity movement.
With respect to this, that opposition Blue and White Unity Movement voiced that the government had still failed to offer any "definitive signs" of a will to find integral solutions to the crisis the country is experiencing.
As such, they supported the decision of the University Coalition, an active member of the Civic Alliance, to halt its participation at the negotiation table.