Nicaragua: Ortega and Wife Triumph in Uncontested Elections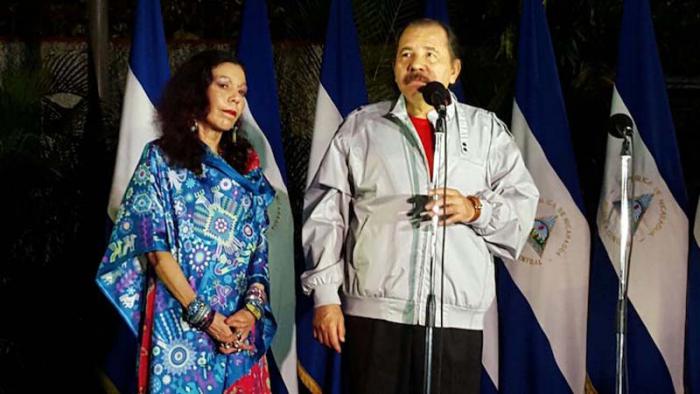 HAVANA TIMES — After a practically non-existent campaign, the Nicaraguans who went to the polls on Sunday gave an overwhelming victory to Daniel Ortega and his wife Rosario Murrillo, according to the Supreme Electoral Council (CSE).
The Council had already guaranteed the FSLN victory back in July when they eliminated the participation of the opposition.
Early this morning the CSE, said that Ortega was reelected for the second consecutive time with 72.1% of the votes with 66.3% of the polling places reporting. It gave 14.2% to Arnoldo Aleman's Liberal Constitutionalist Party (aligned to Ortega) and the rest of the votes divided among other parties who also supported the elections: Partido Conservador, 2.5%; Alianza Liberal Nicaragüense, 4.7%; APRE, 1.5%; and PLI, 5 percent.
Cuba's official Granma newspaper's top headline called Ortega the big winner with over 70% of the vote. It reported that after voting on Sunday, Ortega told the press that these elections are "a vote for peace, for stability and the security of Nicaraguan families."
The main opposition to the Ortega administration had called for citizens to abstain.  According to the Broad Front for Democracy and Citizens for Freedom distortions in the voter rolls and unreliable vote counting were used to hide the over 70% abstention.
"This is the largest abstention observed in an election in the last thirty years. It is the massive expression of the rejection of the electoral farce and the culmination of illegitimacy, credibility and lack of confidence in the illegal officials who organized and carried out the farce," assessed Violeta Granera, national coordinator of the Broad Front for Democracy and former candidate for vice president of the outlawed opposition.
Ortega Vote Rises to 72.5%
HAVANA TIMES – Just before noon Monday the president of the Supreme Electoral Council of Nicaragua, Roberto Rivas, announced that with 99.8% of the votes counted, Daniel Ortega was reelected with 72.5% of the valid ballots.
Rivas said that citizen participation was 68.2%, more than the previous general election in 2011.
The opposition questioned the credibility of the voting data used by Rivas, a strong ally of Ortega, estimating that the actual abstention was 70% and that a lower voter turnout was notable throughout the country. They used pictures of some polling station tally sheets to support their claim.
"Those are the results of the popular vote deposited in the polls despite what some media are saying, trying to discredit.  All of you, our guests, our experts have witnessed the participation that has occurred in the polling stations in each voting center. This showed the democratic vocation of the people of Nicaragua to exercise their right to vote. With 99.8% of the results tabulated at the moment, I think we will not have another public appearance, the results are already here will remain the same when 100% are in," said Roberto Rivas.