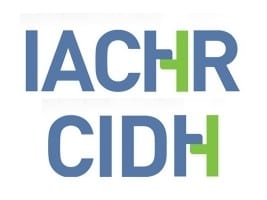 HAVANA TIMES – Once again, the Nicaraguan government did not attend the hearing requested by civil society organizations, before the Inter-American Commission on Human Rights (IACHR) held earlier in the week in Panama. No representative of the Nicaraguan State responded to the call of the regional body, a repeat of the previous session. The hearing was on the situation of the human rights of women, girls and teenagers in the country.
On the other hand, the organization IPAS Central America, the Autonomous Nicaraguan Women's Movement (MAM) and the Center for Justice and International Law (CEJIL), denounced the current deterioration of women's rights in Nicaragua and how it fits into a context of regression in the democratic institutionality of the country.
As evidence of this deterioration, it was pointed out that there is a substantial change in the access route to justice, which has led to the total abandonment of victims of gender violence. This prevents the filing of complaints and ignores the existence of power relations within the dynamics of the cycle of violence, exposing women to a greater risk of suffering another aggression. Worse yet the National Police does not want to record violent crimes against women as femicide, which has led to the invisibility and concealment of the magnitude and severity of violence.
The petitioners informed the Commission that in Nicaragua the law totally penalizes abortion and the Supreme Court of Justice has 10 years without responding to appeals for unconstitutionality against this penalty.
In cases of sexual violence between 2006 and 2015, eight out of ten were under 17 years of age. In 2015, 15 daily rapes were reported, of which 83.5% were persons under 17 years of age and 64% for girls aged 0 to 13 years.
Sexual violence against girls brings with it pregnancy and forced childbearing. Between 2000 and 2009, it went from 1,066 births per year in girls aged 10 to 14 years, to 1,577, evidencing an increase of 47.9%. Regarding the situation of the adolescents, they indicated at the hearing that Nicaragua continues to hold the first place in Latin America, with teenage pregnancies.
In a country where an estimated 10,000 girls are raped every year, where 8 per cent of the female population has been raped and 1,600 girls aged 10 to 14 give birth annually, the situation of impunity "goes beyond any measure, "said the rapporteur on the Rights of Women, Margarette May Macualay.
For her part, Esmeralda A. de Troitiño, the Nicaraguan rapporteur on children's rights, said that the reality shown by the petitioning organizations had profoundly affected her "because it represents a need to highlight the protection that our girls and adolescents in our continent and very particularly in Nicaragua."
In the absence of the Ortega government, the organizations requested the IACHR to visit Nicaragua in order to be able to investigate in situ the reality exposed during the hearing.