Nicaraguan Protestors Outwit the Police State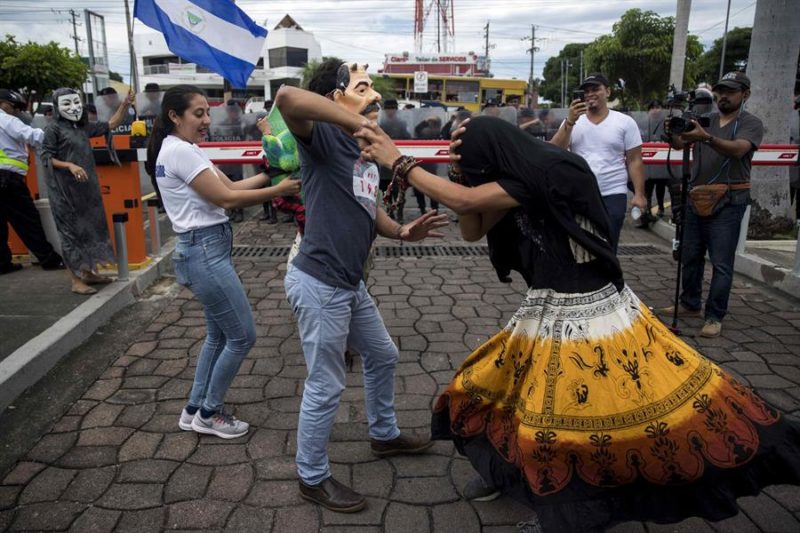 Opponents of Daniel Ortega's dictatorship demonstrate despite the de facto state of siege and outwit the regime that represses them
By Ivette Munguia (Confidencial)
HAVANA TIMES – Nicaraguan opponents of the Ortega-Murillo dictatorship outwitted the de facto state of siege imposed by the regime's police, whose officers cornered them in the parking lot of the Pellas building and the Central American University (UCA), after they surrounded all the points where protests have previously been held in Managua.
While riot forces, traffic police, police chiefs and paramilitaries had the Pellas office building surrounded, in the parking lot the protestors parodied "Nicaragua Disena" (Nicaragua Designs), the fashion event led by Camila Ortega, one of the dictators' daughters. On the catwalk, they emulated VP Rosario Murillo's extravagant way of dressing, modeling toad costumes and a series of masks from Masaya's "aguizotes" (a masked mythological figure).
During the sit-in, journalist Fabiola Tercero, from "Galeria News," reported that officers assaulted her and took away her work equipment, so she had to take refuge in a place near the Pellas building.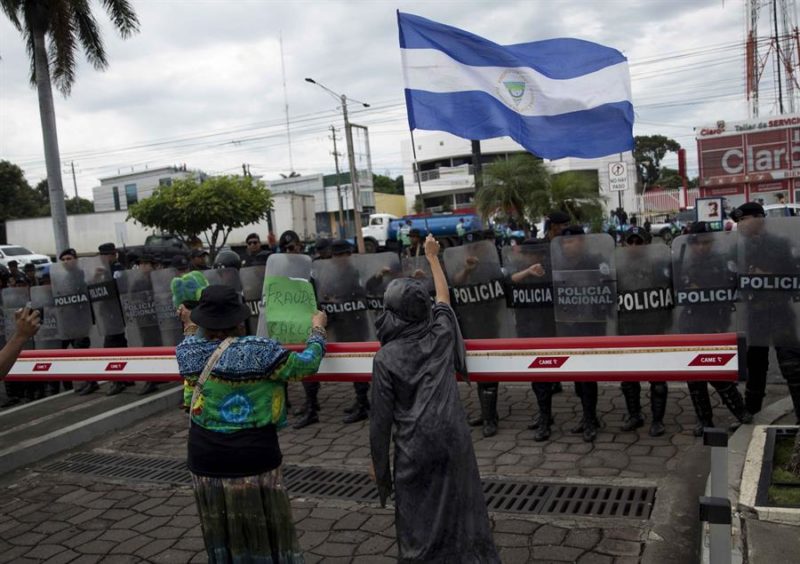 Despite the large police deployment on the "Carretera a Masaya" (Road to Masaya) traffic moved regularly, but the demonstrators remained trapped for three hours, until police patrols began to withdraw from the site.
Simultaneously, students and members of the April Mothers Association held a mockery carnival inside the UCA (Central American University). Here the students danced to the rhythm of a philharmonic band, demanded justice for the more than 328 killed by the dictatorship and freedom for hundreds of political prisoners of the regime.
A young man with his face covered walked through the corridors of the university raising a banner with several electric energy receipts and the logo of the Nicaraguan Social Security Nicaraguan, expressing in this way his disagreement with the reform of the Energy Stability Law, approved this week by the Sandinista steamroller in the National Assembly, as well as the changes in Social Security.
The protestors also stood in front of the main gate of the UCA to demand university autonomy and get the attention of people who were passing by. The police turned on the sirens of the patrol cars to try to drown out the demonstrators.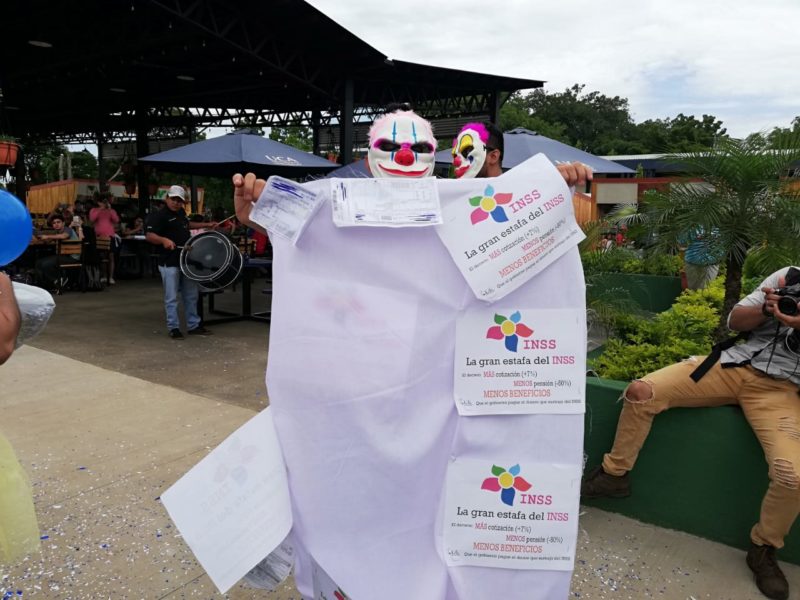 In September 2018, five months after the civic rebellion began, the regime's police declared the marches in Nicaragua "illegal," hoping to silence the citizens demand for the resignation of the dictator Daniel Ortega, after the trail of death, imprisonment and destruction in the country.
In spite of the police ban, citizens continue to resist and expose themselves in protests. This week the student Zayda Hernandez, along with other self-organized, staged a picket in the Metrocentro shopping mall, in the center of Managua, to where a strong National Police force came to corner them and snatch their banners. During the picket, journalist Armando Amaya, of Channel 12, suffered a fractured arm after several police officers threw him against the ground.