OAS Activates Assistance Treaty to Consider Measures against Venezuela
By Sinikka Tarvainen, dpa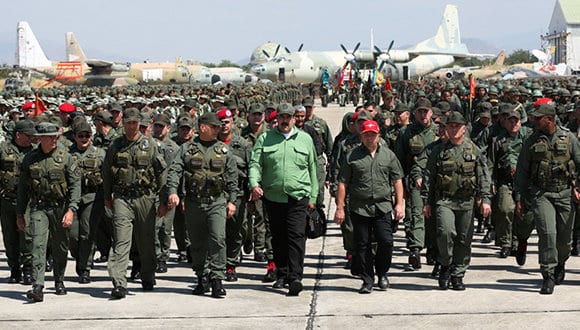 HAVANA TIMES – The Organization of American States (OAS) on Wednesday decided to activate the Inter-American Treaty of Reciprocal Assistance (TIAR) to consider measures against Venezuela after it launched military exercises near the Colombian border.
The OAS Permanent Council approved the decision with 12 votes in favor and five abstentions, according to the Colombian Foreign Ministry.
The OAS took the decision in Washington after Colombian Foreign Minister Carlos Holmes Trujillo accused Venezuela of giving ample protection to Colombian armed groups while tensions were running high over the military exercises that started on Tuesday.
TIAR foreign ministers will discuss possible economic or even military measures against Venezuela at the upcoming United Nations General Assembly, broadcaster Caracol reported.
The principles of the more than 70-year-old TIAR include the principle that an attack against one of its at least 18 members is an attack against them all.
Holmes Trujillo told the OAS Permanent Council that Venezuela's leftist governments have protected Colombian leftist guerrilla groups for more than two decades.
President Nicolas Maduro's government is now hosting rebels from the National Liberation Army (ELN) and dissident ex-commanders from the former guerrilla movement FARC, the minister said.
FARC signed a peace deal with the Colombian government in 2016, while negotiations with the ELN have been suspended.
"Residual terrorist groups maintain links on the local and regional level with the Venezuelan authorities, carry out economic, logistical and social control activities, train militiamen and control some border crossings," Holmes Trujillo said.
He added that Colombian armed groups received "protection, logistical support and weapons" from the Venezuelan government and that the cooperation represented a threat to "the democratic stability and security in the region."
About 1,000 ELN fighters are staying at 50 camps in Venezuela, according to the Colombian government.
Caracas has denied such allegations and justifies the military exercises by saying that Colombia is planning to attack it, a claim Bogota denies.
Colombia's relations with Venezuela have deteriorated over Bogota's support for opposition leader Juan Guaido, whom dozens of countries have recognized as Venezuela's interim president.
Guaido has tried since January to oust Maduro, who won a second term in a controversial election last year and has overseen an economic meltdown.