Obama Meets with US Executives and Self-employed Cubans in Havana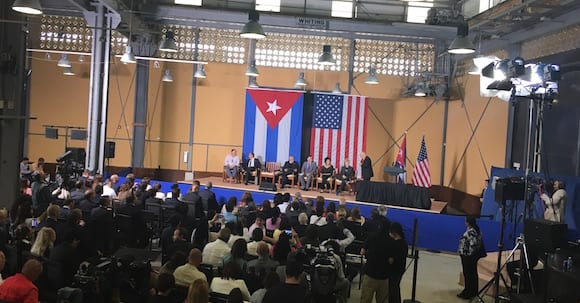 HAVANA TIMES — US president Barack Obama met on Monday afternoon with US business people and "self-employed"  Cubans in Havana, as part of his historic trip to the island run by Raul Castro and the Cuban Communist Party, reported dpa news.
Obama participated in a business forum and fielded questions from the audience. Among those who asked questions were Gilberto "Papito" Valladares, of ArteCorte; Indhira Sotillo Fernandez, of IslaDentro; Brian Chesky, founder of Airbnb; and the Cuban self-employed graphic designer Idania Del Rio.
Obama praised the entrepreneurial spirit of Cuba's "self-employed" and said his government wants to help them "succeed." "The bottom line is that we believe in the Cuban people," he said.
The US president said he wants to boost the growing private sector of the island, which already employs around 5% of the Cuban population of 11.2 million people.  In addition to private restaurants and food stands in Havana, small boutiques, craft workshops and bicycle repair shops have sprouted up.
The Castro government wants to reduce the large and inefficient state sector, although authorization for private work is limited so far to mainly low skilled trades. Doctors and other highly qualified professionals cannot work on their own.
Obama, who had dinner on Sunday at a private "paladar" restaurant, praised the Cuban "genius" in maintaining the "almendrones" (old classic cars) and applauded the work of Airbnb for connecting tourists with owners of rental houses in Cuba.
Obama came to the island with a group of business people, among them the Spanish chef Jose Andres a naturalized US citizen; and executives from Xerox, Airbnb, Starfish Media and Starwood, Marriott and other Hotel chains.
Starwood announced Saturday that it has reached an agreement with the Cuban authorities to become the first US chain to run hotels in Cuba in nearly 60 years.