Observing Hurricane Barry from Cuba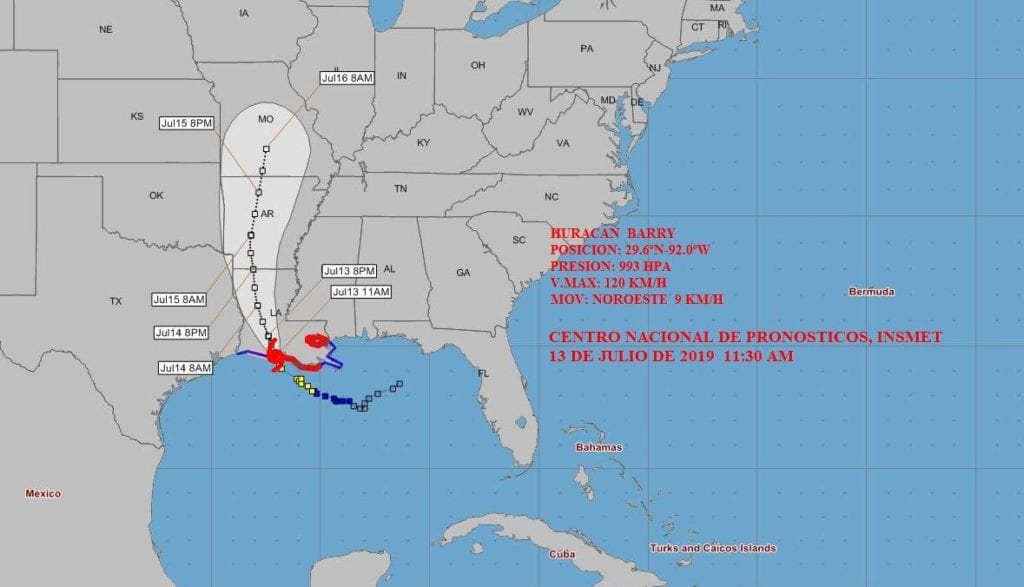 HAVANA TIMES – Cuba's Weather Forecast Center (Insmet) is monitoring hurricane Barry, even though it presents no danger to the island.
At 11:00 am. this Saturday (Cuba time), the center of Hurricane Barry was approaching the Louisiana coast 40 miles south of Lafayette and 50 miles west of Morgan City.
At this time Barry has maximum sustained winds of 75 miles per hour (120 kms) with higher gusts, its central pressure is 993 hectoPascal. The hurricane is moving north-northwest at 6 miles per hour (9 kms), Insmet reported.
Barry is expected to lose quickly in organization and intensity in the coming 12-24 hours, weakening to a tropical storm and later to a tropical depression, while moving inland on a north-northwest track, through the state of Louisiana.
The greatest dangers associated with the hurricane are wind, coastal incursions, large amounts of accumulated rainfall and flooding in lowlands.