Oliver Stone Making a Film on Hugo Chavez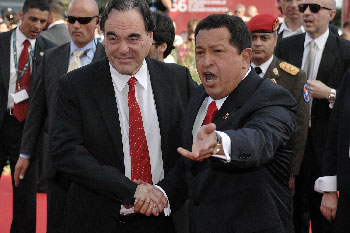 HAVANA TIMES — US filmmaker Oliver Stone is making a movie about the life of Venezuelan President Hugo Chavez, who died of cancer in March, said the South American country's current president Nicolas Maduro.
"It's a new film about Commander Hugo Chavez which will surely be finished in the coming months," Maduro said during an official ceremony in the western region of Lara.
He added that he was informed of the project by one of the producers accompanying the maker of "Platoon" during the trip this week in Paris.
Chavez died on March 5 after a long battle with cancer and before he could swear in for another mandate, 2013-2019, with which he would have reached 20 years in power.
"(Stone) is making a very beautiful film… it's about our commander Chavez," said Maduro.
Stone will visit Venezuela soon to release his latest production which is about the history of US imperialism, added Maduro. "It's 20 chapters, and is out of this world. We are looking forward to his coming to inaugurate the screening of the film in Venezuela."