One of Our Own at the Book Fair
Yusimí Rodríguez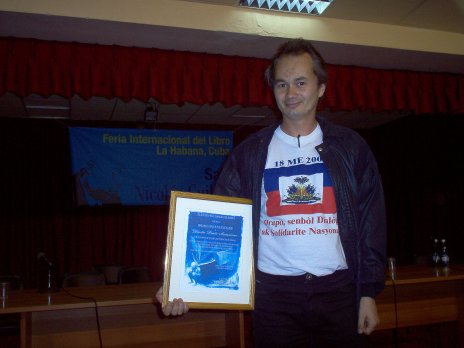 HAVANA TIMES, Feb. 26 — HT friend and colleague, Dmitri Prieto Samsonov, won the Nuevos Pinos Prize for Essays on Social Sciences last Friday as part of the Cuba's XIX International Book Fair.
The judges praised the high quality of the work submitted in this genre, which resulted in the award being shared by Godofredo A. de la Vega Reyes, for his essay "Social and Political Undercurrents in the New Testament," and Dmitri Prieto Samsonov for his "Trans-domination in Haiti (1791-1826): Libertarian Ontological Notes on the Fate of the First Victorious Social Revolution of the Americas.
Minutes after the awards were given, I had the opportunity to speak briefly with Dmitri.  Knowing that he is a Cuban-Russian or a Russian-Cuban, I expressed my surprise that the topic of his essay had nothing to do with his mother's homeland.
Dmitri told me that during his years in secondary and high school he was taught very little about Haiti and its revolution.  Only at the University level did he learn that the Haitians had carried out the first anti-slavery revolution on the continent.
Later he read more about it, including the novel "The Kingdom of This World" by Alejo Carpentier.
Last year he and historian Mario Castillo submitted a comparative analysis of the Russian and Haitian revolutions.
Although that research project did not win any of the scholarships the authors had hoped, Dmitri has not abandoned the idea. "Everything having to do with rebellion is important for those of us interested in freedom," he said.
After the awards ceremony, the winning books of the 2009 Pinos Nuevos Competition were announced by the Pinos Nuevos Collection of the Letras Cubanas Publishing House. The winning authors' books will be published for next year's Book Fair.