Opponents Lose Local Elections in Cuba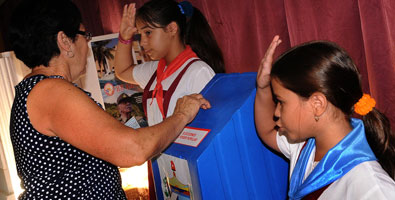 HAVANA TIMES — Two Cuban dissidents out of a total of more than 27,000 candidates nationwide, who ran to become neighborhood representatives in Cuba's local elections on Sunday, were not elected, announced the candidates themselves, reported dpa news.
Hildebrand Chaviano, a 65-year-old lawyer, and Yuniel Lopez, a 26-year-old member of the banned opposition group "Partido Cuba Independiente y Democrática," said they both came in second in their respective constituencies.
Unable to campaign by law, Chaviano and Lopez, were described as "counterrevolutionaries" in official biographies offered by the authorities as they aspired to be among the more than 12,000 new delegates to the Popular Assemblies of People's Power.
"I am out of the race," Chaviano told dpa in a conversation after learning the first ballot count in his central Havana neighborhood of the Plaza de la Revolución municipality.
However, Chaviano felt that he got a "significant amount" of support from the 138 people who gave him their vote, according to figures received from the authorities. Chaviano said there appeared to be no voting irregularities.
Lopez, however, who aspired to be a delegate in the Arroyo Naranjo municipality in south-central Havana, believes there were irregularities at his polling station in the cancellation of several ballots in her favor as well as the "campaign against him" in the days leading up to the vote. According to her testimony, the voters of his district were warned not to vote for her.
The unusual candidacies of the two opponents came amid the process of restoring diplomatic relations initiated by the United States and Cuba four months ago.
In the one page biographies posted with a small photo in the weeks before the elections, the Cuban authorities described Chaviano and Lopez as "counterrevolutionaries" with ties to anti-government organizations abroad.
The candidates to be delegates, with a chance to become members of the municipal assemblies, are selected in neighborhood committee meetings and are then subjected to a vote on election day. Cuban law bans campaigning and the participation of political parties. The short biographies are the only information posted about the candidates.
The island is governed for over half a century ago by a one-party system with the Communist Party as the only authorized political party. Some eight million Cubans were called to the polls Sunday to elect 12,589 municipal delegates for the next two and a half years among 27,379 nominees nationwide.
A second round of voting takes place on April 26 in those constituencies where no candidate received more than 50 percent support.