Ortega and his FSLN Can Count on Cuba, says VP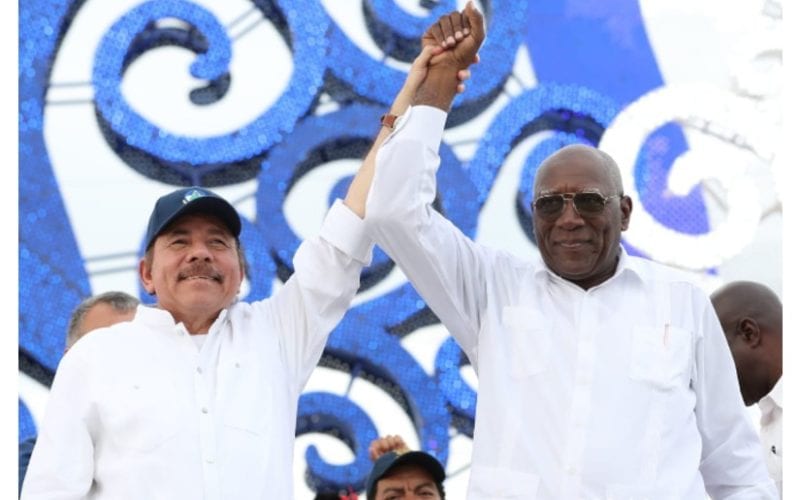 HAVANA TIMES – Cuba's First Vice President Salvador Valdes and Venezuelan VP Delcy Rodriguez were the highest-ranking guests at the celebration for the 40th anniversary of the Sandinista Revolution in Managua on Friday.
In his speech to the crowd, Valdes "recalled the words of Fidel Castro when he said, "the Sandinista victory is not only the victory over 45 years of Somocismo. It's the victory over 150 years of foreign domination in the country, because if anything can be assured its that for the first time in its history, Nicaragua is totally free and independent."
Valdes pointed out that "since the triumph of the Nicaraguan revolution on July 19, 1979 up until today, the FSLN has embodied progress for the Nicaraguan people," reported the Ortega government's el19digital website.
"This occasion, full of pride and emotion, pays tribute to the General of free men, Augusto C. Sandino and to Commander Carlos Fonseca Amador and so many other combatants that gave their lives in the fight for freedom, social justice and true independence," said the Cuban VP.
Valdes highlighted what he called the undeniable conquests defended today with dignity by Sandinistas. Among them, he noted the reduction of poverty and unemployment, the unprecedented expansion of health coverage and the reduction of infant and maternal mortality rates. He also mentioned the advances in education throughout the country, the declaration of the country as free of illiteracy, the programs for child protection and "this brave, combative youth, the future of Nicaragua."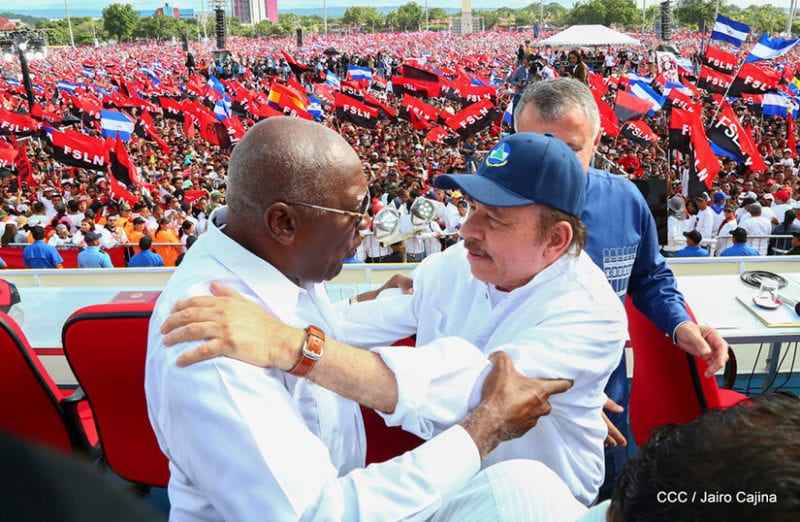 "So many accomplishments in the social, economic and political areas have transformed the lives of millions of Nicaraguans," said the Cuban VP. "These are important achievements that today imperialism wants to revert in its effort to bring back the shameful pretentions of the Monroe Doctrine, and the restoration of domination in our America."
Valdes said Cuba condemns "the illegal sanctions and meddling aimed to destabilize and overthrow the Sandinista government headed by president Daniel Ortega."
"You will never be defeated," he told the gathering, "keep fighting until the end."
The Cuban VP ratified the unwavering solidarity of Cuba with the Nicaraguan people he said are struggling to preserve peace and defend their sovereignty. "Its you right," he added.
"Faced with the constant aggressions and threats from the Empire, and its colonizing and hegemonic logic, we must continue struggling with the unity of the revolutionary and progressive forces."
"Cuba will never renounce any of its principles, its not going to renounce its internationalist vocation, it's not going to renounce defending our sister Bolivian, Venezuelan and Nicaraguan brothers and sisters," said Valdes.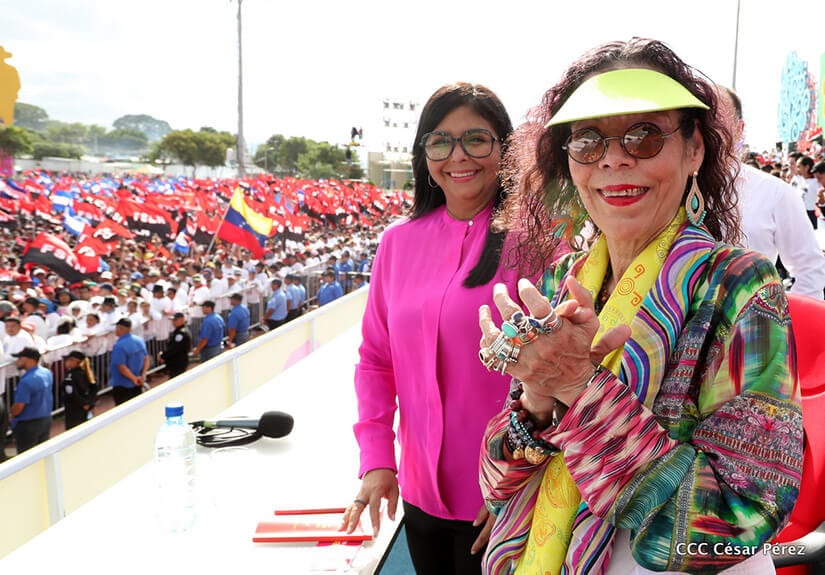 Venezuelan VP Firm with Ortega and Murillo
"Commander Ortega, we have come from Venezuela with profound enthusiasm. We bring you the hug of our president and leader, Nicolas Maduro, for you, vice president comrade Rosario Murillo and the people of Nicaragua, which is celebrating 40 years of the popular Sandinista revolution," said Venezuelan Vice President Delcy Rodriguez.
Rodríguez said "This represents much hope for us, and that both the Cuban and Sandinista revolutions represent guiding anti-imperialist light for the peoples of the world."