Ortega to Meet Thursday with Nicaragua's Bishops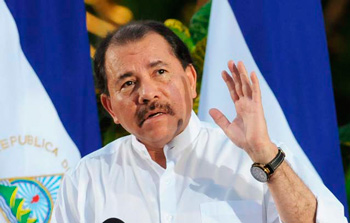 HAVANA TIMES – Nicaraguan President Daniel Ortega accepted a request from the bishops of the Episcopal Conference to meet on Thursday to address the future of dialogue, the Catholic Church body informed today in a statement, reported dpa.
The CEN report indicated that Ortega agreed to a private meeting requested by the bishops and that it will take place on Thursday afternoon at the Casa de los Pueblos, a meeting building of the Government.
The meeting will deal with "indispensable and essential issues for our country, justice and democracy, which always depends on peace, in order to assess the convenience of carrying forward the [suspended National] dialogue," the statement said.
The bishops announced that they will inform the press in the evening about the results of the meeting.
The meeting between Ortega and the bishops comes after seven weeks of intense anti-government protests, which began with a student demonstration against a Social Security reform, but snow-balled after the deadly repression of the police and paramilitaries against unarmed demonstrators.
According to the Inter-American Commission on Human Rights (IACHR), the crisis has left 127 dead and more than 1,200 injured, many seriously, since April 18th. The Government only records 40 dead.
Although a national dialogue had been convened, with mediation from the Episcopal Conference, the process was suspended on May 23 due to lack of consensus on the issues to be discussed.