Ortega's Response to Companies in Crisis: "Let Them Fail!"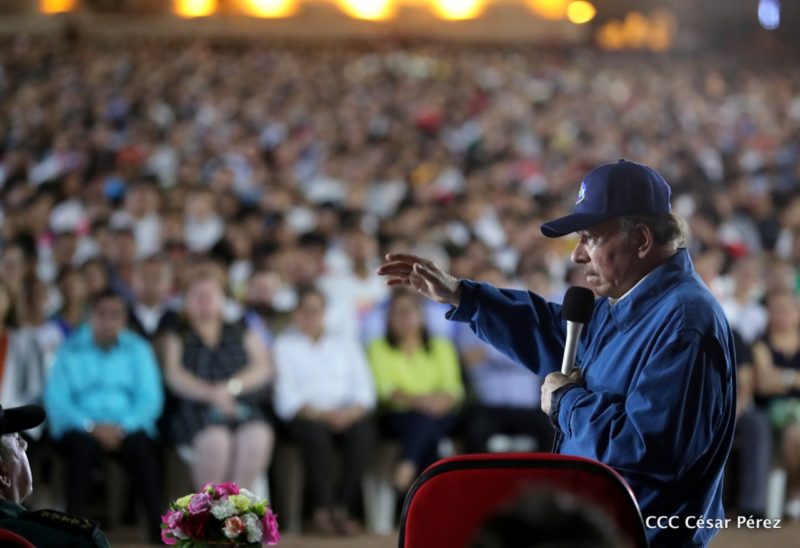 The ruler minimized the crisis affecting private business in Nicaragua. "Some of them (private companies) are going bankrupt? Let them go under!" he advocated during a party activity.
HAVANA TIMES – Nicaraguan president Daniel Ortega spoke out last Friday against the private sector and minimized the closure of companies affected by the crisis which has engulfed the country since April 2018.
In a party activity that all of the country's radio and television stations were obligated to transmit, Ortega criticized the private companies, claiming that they demand to be exonerated from taxes in order to "always maintain large profits".
"Some (of the companies) are failing? Let them fail!" he exclaimed.
This week, the Nicaraguan branch of the British-American Tobacco Company laid off 30% of their personnel in the country as a consequence of the rise in the cigarette tax of up to 210%. The steep tax increase forced the company to increase their prices and then suffer a 40% drop in sales due to increased contraband.
Ortega persists in his accusations
Companies in Nicaragua "want to earn more than they were earning before they attempted to destroy the economy," Ortega declared, alluding to the demonstrations against his government that broke out on April 18, 2018, ignited by unpopular reforms to Social Security.
Offering no evidence, the ruler accused an unidentified part of the business community of being part of the "conspiracy" that, in his opinion, tried to defeat him with the social explosion that occurred almost 19 months ago.
He maintained that there are companies in Nicaragua that "are still financing the conspiracy" and that are now trying to impose conditions of a political nature before they'll help lift up the economy that shrunk 3.8% last year.
My way or the highway
"If a company owner wants to impose conditions of a political nature, let them form a political party and we'll see how it goes for them at election time," Ortega suggested.
He maintained that "those are the messages" he's receiving from the Nicaraguan private sector seeking a way out of the crisis.
"The only road they have is that one: to work within the laws of the market that are functioning in Nicaragua," he added.
The Superior Council of Private Enterprise (Cosep) and the Nicaraguan-American Chamber of Commerce (AmCham), the principal organizations of large business owners in the country, are part of the opposition Civic Alliance for Justice and Democracy. The latter organization was the government's counterpart at the negotiations that Ortega unilaterally concluded on July 30.
"Simply put, they're still clinging to their plan for a coup and on down that road," Ortega continued. The ruler has opposed any dialogue around political topics: moving up the elections scheduled for November 2021, or resigning from power. He called on the business owners to "reflect and leave 'confrontation' behind."
Uncomfortable with the flash protests
Along the same vein, Ortega criticized the opposition demonstrators who hold spontaneous flash protests against his government. He maligned them as "terrorist groups", along with some Bishops from the Catholic Church whom he didn't name.
"There are a small number of schizophrenics and whitewashed tombs that are part of the conspiracy," the ruler accused, ordering the bishops to take care of their Church and to take a close look in the mirror before criticizing others' flaws.
Ortega's speech was offered during a rally honoring Carlos Fonseca, one of the original founders of the Sandinista Popular Liberation Front who was killed in combat in the north of Nicaragua in November, 1976.
Nicaragua is suffering a serious crisis that has left a confirmed toll of 328 deaths since April 2018, according to the Inter-American Commission for Human Rights.
Celebrates Lula's release from prison
At the same activity on Friday, Ortega celebrated the release of former Brazilian president Luiz Inacio Lula da Silva. Ortega commented that he had followed Lula's liberation on television, because he wanted to be sure whether or not they were really going to let him out.
He observed that Lula walked out into freedom with vitality, strength, valor and with "that spirit that he hasn't lost", despite having spent more than a year and a half in prison, where he was serving a sentence for charges of corruption.
Ortega sent greetings to Lula, and to his party, the Workers' Party. He predicted that "if they were to hold an election right now, Lula would sweep that election, he'd win that election."
The 74-year-old former Brazilian leader, who asserts he's been the victim of a "legal and political persecution" has been imprisoned in Curitiba, capital of the Brazilian state of Parana, since April 7, 2018.
In addition to being sentenced in a scandal known as the "triplex case", Lula, also a former union leader, is still facing a series of legal accusations.
The released former president will now be allowed to remain free while he appeals his sentence of eight years and ten months in jail for passive corruption and money laundering, until all available appeals within the Brazilian legal system are exhausted.