'Outraged' Rally Saturday in Havana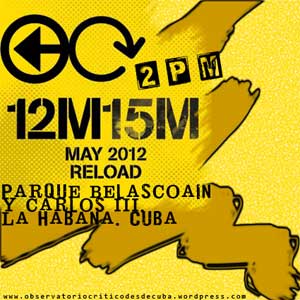 HAVANA TIMES — Cuba's "Critical Observatory Network" announced that it will join in the global mobilization called by social movements around the world set for this coming Saturday, May 12 to mark the first anniversary of catalytic "15-M" protests in Spain.
"The reasons this time are the same ones that sparked the 15-M movement last year," reads the Observatory statement.
A MAY RELOAD
"The world remains in the throes of a crisis caused by politicians and bankers, combined with the complete lack of real democracy, incurable corruption, exclusion and discrimination of all types, while the public is completely manipulated by the media and because of the lack of critical thinking promoted by the mainstream education systems.
"This world-call aims to demonstrate the public's discontent with the prevailing authoritarian political and economic model. Since the system affects all of us, the response must be united and global.
"Defending the authority of the people through their political, social, cultural, economic and food sovereignty is vital for true democracy, true equality and a new evolutionary step as a society.
"Therefore, the friends of the Critical Observatory Network will rally this Saturday (May 12) at 2:00 pm at the Belascoain and Carlos III Park, next to the bust of Karl Marx, in connection with the whole global anti-capitalist movement."