Over 93% Turnout in Cuba Elections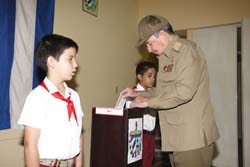 HAVANA TIMES, April 26 — Cuban's flocked to the polls on Sunday to elect local representatives to the country's 169 municipal assemblies of "People's Power".
As in previous elections the government reported a massive turnout, over 93.49% one hour before the polls closed.  A final tally is expected on Monday.
A total of 8,094,419 Cubans 16 or over were eligible to vote.
Voting is not obligatory but social pressure is considered a factor in the high turnout.
Cuba holds its local elections every two and a half years with provincial and national parliament votes coming every 5 years.