Paquito D'Rivera and Chucho Valdes Together at the White House (Video)
Two Cuban legends come together at the White House for International Jazz Day.
by Wilfredo Cancio Isla   (Café Fuerte)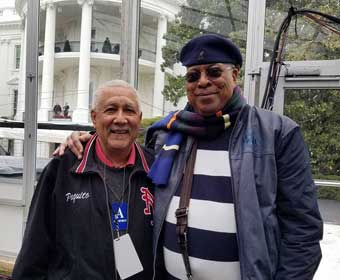 HAVANA TIMES — Paquito D'Rivera and Chucho Valdes got together last Friday at the White House with President Barack Obama, to perform the jazz that has turned them into legends around the world.
International Jazz Day was also an opportunity to reaffirm their friendship of two renowned Cubans who have had misunderstandings and conflicts since 1981, when Paquito seized an opportunity to leave Cuba and shake off the yoke of a political system he did not tolerate.
"There are lives that are indissolubly linked and politics cannot drive them apart," said Paquito during a phone conversation in Washington, D.C. "Our families, our ancestors are united by things other than politics."
A Tribute to Bebo Valdes
Paquito told Café Fuerte that, during the evening at the White House, working next to many jazz and popular music stars, the two joined three other international artists to perform Con poco coco, a piece by Bebo Valdes (1918-2013), Chucho Valdes' father and a renowned figure of Cuba's émigré music community.
Con poco coco was Bebo's tribute to Bud Powell and it is considered the first latin jazz jam ever recorded.
"It was a lot of fun and thinking about Bebo always moves me. My father and Bebo were like brothers, they were very close, nothing will ever change that," Paquito recalled.
He added he will always be grateful to Chucho and his brother Oscar Valdes, a singer and drummer, who gave him the opportunity to join the band Irakere in 1973, despite all of the political pressure applied at the time to prevent this.
A Photo With Obama
"When I was going through a very hard time in Cuba, after they kicked me out of the Modern Music Orchestra, Chucho and Oscar got me out of the ditch and let me into Irakere, I'll never forget this," the saxophonist said.
Paquito and Chucho had many pictures taken after setting foot in the White House and during rehearsals. First Lady Michelle Obama and actor Morgan Freeman also appear in the official photo showing the participants to the concert, standing next to Obama.
Obama praised the power of jazz as a force that encourages creativity, cultural integration and freedom.
"Jazz has always been the space where people have come together, overcoming apparently uncrossable abysses, and here, in our country, before schools and sports, it was jazz that overcame racial segregation, because, for many instrumentalists, the only thing that matters is music," Obama said.
He also commented that, during his recent trip to Cuba, he had an opportunity to listen to Afro-Cuban jazz.
Jazz in Havana
"I was recently in Cuba, the first US president to make that trip in 88 years, and, in Havana, you can hear the beautiful sound of Afro-Cuban jazz and that improbable marriage of cultures that captivates so a century later," the president said.
The reference to Cuba prompted a standing ovation from those present.
Paquito's participation at the White House concert initially promoted some controversy, as, after being invited, the artist received a call from the Thelonious Monk Jazz Institute, responsible for organizing the event, informing him he had not been approved. The invitation was confirmed following an open letter addressed to President Obama.
This year, Washington DC was selected the host city of International Jazz Day, celebrated on April 30 around the world, a date included in UNESCO and UN official calendars.
The concert will be aired around the world this coming Saturday at 8 pm by ABC, part of a special one-hour program titled Jazz at the White House. The show will also be available at the websites of UNESCO, the United Nations, the US Department of State and the White House.
Following his performance at the White House, Chucho heads to Spain to present Tribute to Irakere, an album that includes the concert offered by the pianist along with Irakere during an international tour last year.