Peru's Humala Headed for Cuba on Friday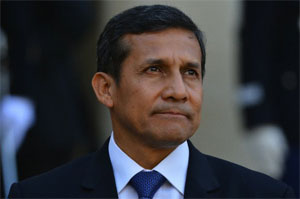 HAVANA TIMES — Peruvian President Ollanta Humala travels to Cuba on Friday on a trip to increase bilateral cooperation and possibly visit ailing Venezuelan President Hugo Chavez in his Havana hospital.
DPA news reported that Humala had requested the Peruvian congress to grant him permission to be absent from the country for the trip on Friday and Saturday.
Humala's visit to Cuba will coincide with that of Argentine President Cristina Fernandez who is also expected on Friday.