Pianist Gonzalo Rubalcaba Returns to Havana
Gonzalo Rubalcaba, the piano maestro
By Fabian Flores  (Cafe Fuerte)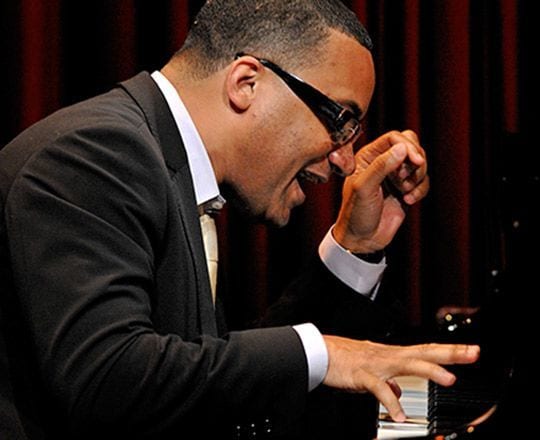 HAVANA TIMES — Cuban pianist and composer Gonzalo Rubalcaba has returned to Havana to play a concert this coming Saturday night, at the Alicia Alonso Grand Theater in Havana.
It's the famous Cuban pianist's great return. He has been living in the United States for 21 years, and he will play a very personal concert. This comes as part of the wave of artists that are traveling between the two countries ever since cultural exchanges were started up again by Barack Obama and continue under Donald Trump's administration.
"This is an opportunity which I find fascinating. It's fascinating for me because it allows me to show a summary of my work on the piano over the last 10 years," the pianist said at a press conference.
Concerts
Gonzalito's concert – as this artist is popularly known – will take place as part of an initiative which includes musicians Chucho Valdes, Hernan Lopez Nussa and other figures who are promoting concerts for the Cuban people through August 26th.
At the concert, Rubalcaba will perform part of his album Fe (Faith).
"At this concert, I will play different composers' work, from different eras, different musical languages, different esthetics, everything that I have been working with throughout this time," the artist added.
The program is made up of 8 pieces, 2 of which Rubalcaba dedicates to his children. Among these pieces are Hermitage, by Pat Metheny, a US jazz musician who has been won 20 Grammy awards, and My love and you by the legendary US composer David Raskin.
Meeting Chucho again
Rubalcaba told reporters how he had been on tour in Italy, France, Spain and England a month ago, which will now be extended to several countries in Asia, with Cuban maestro Chucho Valdes.
He mentioned that he had had the opportunity to meet Chucho Valdes again while they were both recording for the documentary "Playing Lecuona", a tribute to the Cuban pianist and composer Ernesto Lecuona (1895-1963), directed by Pavel Giroud and Juanma Villar Betancourt.
Considered to be one of the outstanding figures in latin jazz, Rubalcaba won a Grammy and the Latin Grammy in 2002 with his album Supernova. In 2005, he won another Grammy, as the producer of the album Land of the Sun, and in 2006, he won another Latin Grammy for his album Solo.
Coming from a renowned family of musicians, Rubalcaba worked in various orchestras as an accompanying pianist since he was 14 years old until 1978 when he created his own group, Proyecto, where he was the drummer, pianist, composer and arranger until the end of the '80s, when his international career was consolidated as a solo artist.
He moved from Cuba to the Dominican Republic in 1996. He currently lives in Fort Lauderdale, Florida.