Pope Francis Celebrates his Final Mass in Cuba before traveling to the United States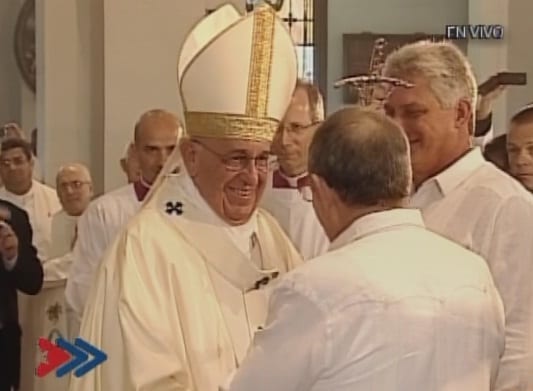 HAVANA TIMES — With Cuban president Raul Castro and VP Miguel Diaz Canel in the audience, Pope Francis celebrated today in Santiago de Cuba his last religious act on the island before traveling to the United States.
Francis arrived this morning to the shrine of Our Lady of Charity on the outskirts of Santiago, one of the sacred places of the Cuban Catholicism, reported dpa news.
After the last public Mass in the chapel of El Cobre, the pope was scheduled to meet with some Cuban families.
Francis will then deliver his farewell speech at the airport in Santiago after spending four days in Cuba, the third visit of a Catholic pope to the island. President Raul Castro will bid farewell to Jorge Bergoglio at the airport.
The Pope begins today a symbolic six-day visit to the United States after being in Cuba. Francis is seen as a key supporter of the historical rapprochement between the two former ideological enemies.