Power Back in Cuba after Major Blackout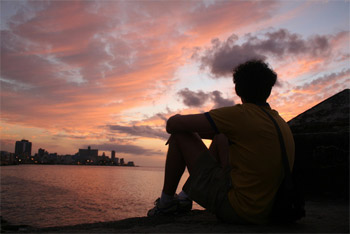 By Issac Risco
HAVANA TIMES (dpa) — A massive power outage hit parts of Cuba overnight Sunday to Monday, plunging about 6 million people – more than half of the Caribbean island's inhabitants – into darkness for several hours.
The blackout hit eight provinces, including the capital, Havana, with its 2.2 million residents, around 0000 GMT. It took approximately four hours before power gradually returned.
A fault in a high voltage transmission line that runs across the island's centre was apparently to blame, Cuban state media reported Monday, after several hours of official silence on the incident. A probe has been launched into the cause.
While communist Cuba's aging infrastructure causes frequent short-term blackouts, the country had not experienced such a far-reaching power failure for many years.
According to a brief statement issued by Cuba's Electric Union, the power outage went from the province of Pinar del Rio, in the extreme west, to Camaguey, on the island's centre – equivalent to about three-quarters of the country's surface area.
The blackout was pervasive in western areas. Only major hotels, some public buildings and foreign missions continued to have electricity thanks to their generators. Locals seeking to escape the heat of their houses poured onto Havana's seaside boardwalk, the Malecon.
"The striking thing about this (blackout) is not how long it lasted, but its extent," Cuban opposition blogger Yoani Sanchez wrote on Twitter.
"We're going back home, the heat was affecting us," pro-government blogger Yohandry Fontana said in the same social network after power was restored in Havana.
Following the so-called "energy revolution" that former Cuban president Fidel Castro launched in 2004, Cuba purchased many industrial generators to try and alleviate its thermo-electric deficiencies. However, such measures have not been enough to solve the problem.