Public Transport Strike Sparks Long Lines in Caracas, Venezuela
By Sinikka Tarvainen, dpa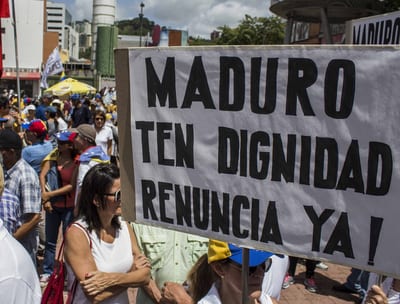 HAVANA TIMES – A partial transport strike on Wednesday sparked long queues at bus stops in the Venezuelan capital Caracas, local media reported.
Southern and eastern districts of the capital were especially hard hit by the strike, which was organized by bus drivers who accuse the cash-strapped government of not keeping its promise to provide spare parts for their vehicles.
Residents said they had not been forewarned about the strike.
The Caracas underground was only functioning partially, adding to transport problems in the city.
Power cuts that have plagued Venezuela for two months also continued, affecting a parliamentary session for several minutes.
The South American country is facing a massive economic crisis while the US-backed opposition is conducting a campaign to force President Nicolas Maduro to resign.
On Wednesday, Colombia, a staunch opposition supporter and US ally, accused the Venezuelan army of having violated its territory.
According to the Colombian Foreign Ministry, about 30 soldiers crossed the border into the department of Norte de Santander on Monday. They left about 20 minutes later after spotting a Colombian army helicopter.
The ministry accused Venezuela of trying to provoke incidents which would prompt Colombia to retaliate and allow Venezuela to accuse its neighbor of attacks.
Meanwhile, Venezuelan and Spanish media reported that Caracas had expelled Spanish journalist Joan Guirado, who had been in the country since early this month to cover its political and economic crisis for the daily OK Diario.
Guirado tweeted on Tuesday that he had been held by the intelligence service Sebin for several hours. "It is not a nice experience, and even less so when the only thing you are doing is exercising journalism," he said.
Opposition leader and self-declared interim president Juan Guaido has failed to win over the army, whose support has allowed Maduro to hang on to power. Maduro won a second term in an election boycotted by most of the opposition a year ago.