Rains from Hurricane Michael May Reach Havana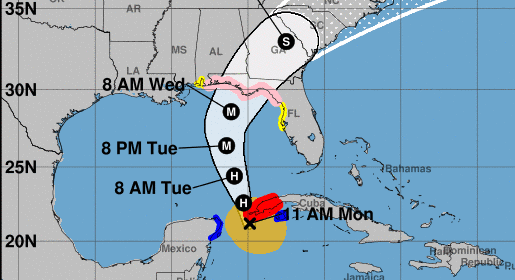 HAVANA TIMES – What was Tropical Storm Michael became a hurricane quicker than expected and heavy rains are possible in localities streching from Pinar del Rio to Havana City provinces starting Monday.
Michael now packs 75 mph maximum sustained winds with a minimum central pressure of 982 millibars. Strong coastal flooding is foreseen for the southern coasts of Pinar del Rio and Isla de la Juventud, noted the Cuban Forecast Center (Insmet) on Monday morning.
Possible coastal flooding on the north coast of Cuba has not been mentioned thus far by Insmet.
In Cuba hurricane force winds are expected to be felt on the far west of Pinar del Rio while tropical storm force winds should be present in the rest of Pinar del Rio and possibly Artemisa, Mayabeque and Havana, noted the National Hurricane Center (NHC) in Miami.
The NHC is now predicting that Michael will become a major hurricane while moving through the Gulf of Mexico before it reaches the Florida Panhandle on Wednesday and then plows into Georgia and the southeastern region of Alabama reduced back to tropical storm intensity after interacting with land.