Raul Castro Observed May Day Parade Supporting his Gov.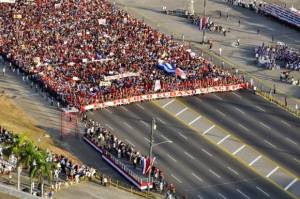 HAVANA TIMES — President Raul Castro and other Cuban officials presided over the annual parade in Havana to celebrate International Workers' Day and pledge support for the government and its leaders, reported dpa news.
The leaders, at the foot of the Jose Martí Memorial in Havana's Revolution Square, watched as tens of thousands paraded by in the traditional show of support.  Raul Castro was accompanied by senior representatives of government and the Communist Party, including First Vice President Miguel Diaz-Canel and historical veterans of the Cuban Revolution.
"We celebrate International Workers Day today throughout the country with a popular mobilization in all the squares and avenues," said Ulises Guilarte, general secretary of the Central Workers Confederation of Cuba (CTC), the only labor organization allowed the island.
Similar events were held in other Cuban cities, including Holguin and Santiago de Cuba in the east.
The May 1 parades in Cuba are dissimilar from other countries where workers make visible their labor demands.  Instead, in Cuba, the annual event is used to support the Castro government and its policies.
In addition to thousands of public employees, a group of "self-employed" workers also took part in the parade.  Beside them marched groups of students, teachers and athletes, as well as doctors and other health workers.
According to the official newspaper "Granma", the Havana event drew some 2,000 visitors from other countries, mostly members of solidarity groups with the Cuban government.
Those parading carried posters with the faces of Raul and Fidel Castro, as well as former Venezuelan President Hugo Chavez, who was a close ally of the Cuban government.