Raul Castro Says Cuba is Growing and Paying its Foreign Debt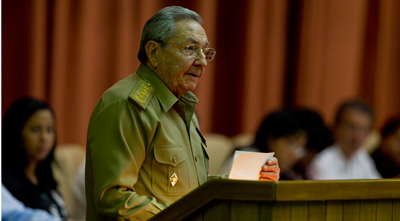 HAVANA TIMES (dpa) — Cuban President Raul Castro addressed the Cuban legislature on Thursday emphasizing the improved macro economy annual growth figure of 4.7 for the first semester of the year and noting that Cuba is paying its debts on time.
"During the first semester of the year we have faced severe external financial restrictions, however, the country continues to strictly meet its debt obligations with foreign creditors and suppliers, a practice that favors renewed credibility in the nation's economy, despite the US blockade which is still in full force," said Raul Castro.
Castro, 84, pointed out that even with the reopening of respective embassies on July 20 in Washington and Havana, to achieve fully normalized US-Cuban relations, the half-century economic and financial embargo on Cuba must first be lifted.
The two countries formally resume diplomatic relations next Monday as part of a historical rapprochement started last December, after more than five decades of hostility and ideological rivalry.
Castro insisted in his speech that Cuban society will continue its process of transformations in order "to build a prosperous and sustainable socialism, which will guarantee our independence."
The general/president also reiterated the demand that Washington return the Guantanamo naval base to Cuba, and discontinue the US programs for the "democratization" of Cuba, which funds some of the exile groups and media based in Florida.
On the international front, Castro praised the landmark nuclear agreement reached Tuesday between Iran and the five veto-wielding powers on the Security Council of the United Nations plus Germany. The agreement, reached after years of difficult talks, provides for several control mechanisms for the Iranian nuclear program.
"This result shows that dialogue and negotiation are the only effective tool to resolve differences between countries," said the Cuban leader, who also defended the right of all countries to peaceful use of nuclear energy.