Rios Montt Sentenced to 80 Years in Prison
Aromina Garcia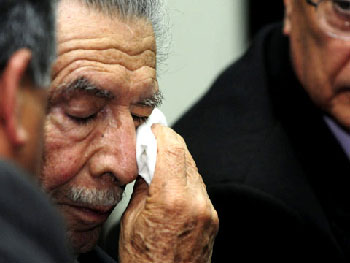 HAVANA TIMES – Guatemala's former dictator Efrain Rios Montt, was sentenced Friday to 80 years in prison on charges of genocide and crimes against humanity.
The judgment was divided into 50 years for genocide and 36 years for crimes against humanity, reported PULSAR news.
Jose Rodriguez, former head of Military Intelligence during Rios Montt's coup government and who was also tried for the same crimes, was acquitted.
Rios Montt, who testified before the sentence was handed down, denied having authorized the massacres "against any race, ethnic group or religion."
In this regard, the courts head judge, Jasmine Barrios, said the judges felt that Rios Montt's conduct "falls within the crime as author of genocide."
Efrain Rios Montt was convicted of the slaughter of 1,771 indigenous persons of the Ixil Maya community in the department of Quiché between March 1982 and August 1983, during the period he ruled after the coup against then President Romeo Lucas Garcia.
He was also accused of numerous atrocities committed by soldiers against Guatemalan communities during the long civil war.
The Guatemalan court began the trial on March 19 described as "historic" because it is the first time a former head of state is accused, tried and convicted of crimes against humanity and genocide.