Roberto Rivas' Brother and Sister-in-Law Fall from Grace in Costa Rica
Government cancels Harold Rivas' tenure as ambassador and his wife's post as Consul.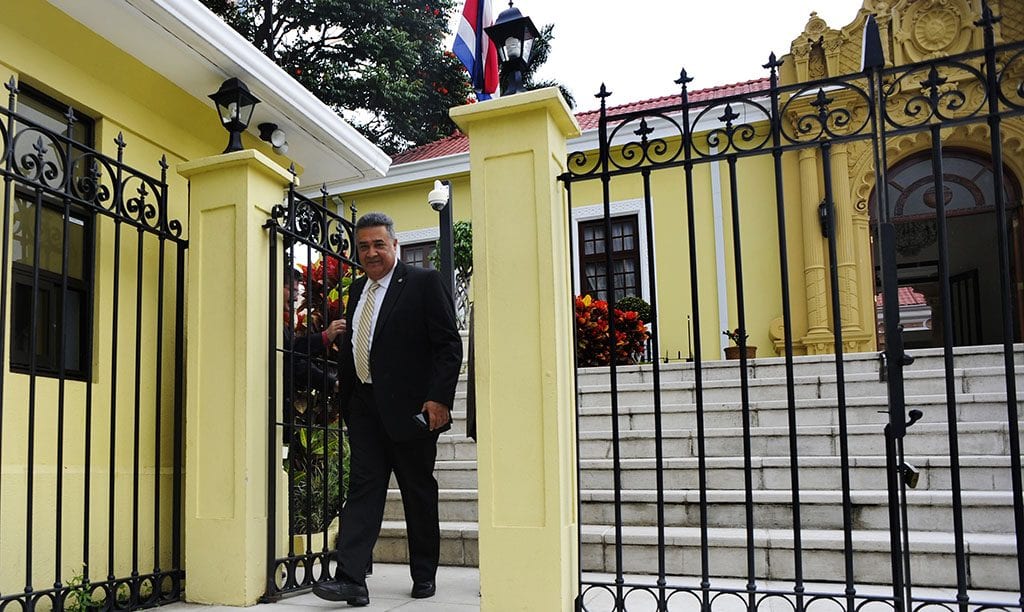 HAVANA TIMES – A government source in Nicaragua revealed to Confidencial that President Daniel Ortega has decided to cancel the appointment of Harold Rivas as ambassador to Costa Rica. Harold Rivas is the brother of Supreme Electoral Council President Roberto Rivas. Harold Rivas' wife Jenny Perez, who had been serving as Consul in Costa Rica, was also recalled.
The source refused to comment on the causes of this decision or to indicate whether Rivas would be removed from foreign service altogether, or transferred to another diplomatic post. The decision was officialized in the following days.
The fall from grace of the Electoral Magistrate's brother in Costa Rica after nearly ten years in this diplomatic post comes over a month after Robert Rivas was included by the US Treasury Department's Office of Foreign Assets Control in a list of "people involved in serious human rights abuses or corruption" based on the Global Magnitsky Human Rights Accountability Act.
Roberto Rivas has been missing from the public eye for over 40 days now, ever since the Treasury Department's sanction was announced. Although sources linked to Rivas assure that he's still in Nicaragua, the Magistrate isn't exercising his post in the offices of the Supreme Electoral Council, although he has neither resigned nor been dismissed. As the days pass, Nicaraguan President Daniel Ortega remains silent, and the institutions that should be overseeing the State resources refuse to investigate him.
Nepotism and abuse of power
In 2009, the Costa Rican newspaper La Nacion revealed that Chibulu del Oeste S.A., a company owned by Roberto Rivas and his wife Ileana Delgado Lacayo, possessed a housing complex consisting of four residences in the exclusive Villa Real community, with a view of Escazu, known as the home of the country's economic elite.
The Costa Rican newspaper uncovered the fact that in Costa Rica, Rivas and his family were using vehicles that were tax exempt, with license plates assigned to the Nicaraguan embassy, although the law does not allow this. The cars were brought into Costa Rica via the border at Penas Blancas: one was a 2009 Mercedes Benz S500 and the other a BMW M3 of the same year.
The Mercedes s500 was registered to Harold Rivas Reyes, Nicaraguan ambassador and brother of Nicaraguan top election official Roberto Rivas. The BMW appeared under the name of Guillermo Jose Matus Cortez, third secretary of the embassy
The Costa Rican reporters confirmed via photos and videos that the cars were utilized by Roberto Rivas, his wife, and Roberto Miguel, their son.
In this article, La Nacion wrote that a Porsche 911 Carrera, also exempt and registered in the name of Ambassador Rivas, was in reality being used by two sons of President Ortega, Maurice and Laureano, who were at that time university students in Costa Rica, and staying in one of Rivas' mansions.
"Information received from intelligence services indicates that the vehicle Porsche, license plate CD-23-110, is driven by Maurice and Laureano Ortega Murillo," noted the Ministry of Finance in a document that was delivered to the ambassador on January 15, 2010.
When consulted by La Nacion Harold Rivas' response regarding the first two vehicles was: "It's my vehicle and I can do whatever damn thing I please with it." With respect to the Porsche, he declared: "I want you to prove this to me; if you have proof, then show it. That hasn't happened, nor will it."
The Mercedes Benz was introduced into Costa Rica on December 9, 2008, through the Penas Blancas customs office. The BMW came through the same office on July 6, 2009.
According to later reports in the Costa Rican newspaper, following publication of the original story, Ambassador Rivas filed a protest at that country's foreign ministry and indicated in a note that La Nacion was realizing "persecution and a campaign of disparagement" against the Nicaraguan Government. The diplomat defended himself from the accusations, but gave no explanation of why his brother Roberto Rivas was using the diplomatic vehicles.
In addition to the scandal of these tax-exempt vehicles being used for transportation by the Supreme Electoral Council chief, his wife, his son, and the Ortega offspring, when Harold Rivas arrived at his post he had stormy sessions with the Consul at that time – Leticia Herrera, a former guerrilla leader.
Little by little, Rivas fired Herrera's trusted staff until he succeeded in provoking her into leaving her post. In her place, his wife, Jenny Perez, was appointed.
According to information from the Nicaraguan newspapers El Nuevo Diario and La Prensa, Rivas' wife had so much influence in the San Jose Consul's seat that she presumably intervened in the firing of a number of functionaries that had been serving under Herrera's leadership. Herrera herself left the Consulate to assume a post in Panama.
Perez was named Consul in 2010. On leaving her post, she will have served nearly seven years as a diplomat in Costa Rica.
Previously a diplomat in the United States

Harold Fernando Rivas Reyes was born on April 26, 1960, in Matagalpa. He studied business administration and international relations. In 1990, he served as first secretary and alternate representative to the Organization of American States (OAS). In 1997, he took over as Nicaraguan Consul General in the United States, under the governments of Violeta Chamorro and Arnoldo Aleman. He was appointed ambassador to Costa Rica by the Ortega government on February 16, 2007.