Russia Praises Relations with Cuba after US Steps Up Pressure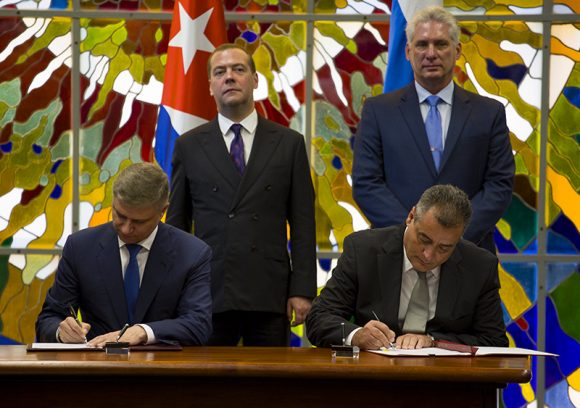 HAVANA TIMES – Russia on Thursday stressed its good relations with Cuba at a time when the United States has stepped up pressure on the island, reported dpa news.
"I am sure our relations with Cuba have a brilliant future," Russian Prime Minister Dmitry Medvedev said during a visit to Havana.
Cuban President Miguel Diaz-Canel announced he would travel to Moscow at the end of the month to hold talks with his counterpart Vladimir Putin.
The two countries signed cooperation agreements in areas including airplane maintenance, railway modernization and training of customs personnel, the Cuban news agency ACN reported.
Medvedev's visit came as US President Donald Trump's administration has increased sanctions on Havana, including a ban on former president Raul Castro from entering the US, and limiting remittances to the island.
The US has linked the sanctions to Cuba's support for Venezuelan president Nicolas Maduro.
Thus far the Russian cooperation is a far cry from the days of the Soviet Union which bankrolled the government of Fidel Castro for decades during the Cold War.
Besides Venezuela, Russia is Cuba's third trade partner after the European Union and China, with the trade expected to reach 500 million dollars this year.