Sergio Ramirez: "Darkness and Terror"
Officials in San Juan del Sur dismissed for appearing with the writer at an inauguration ceremony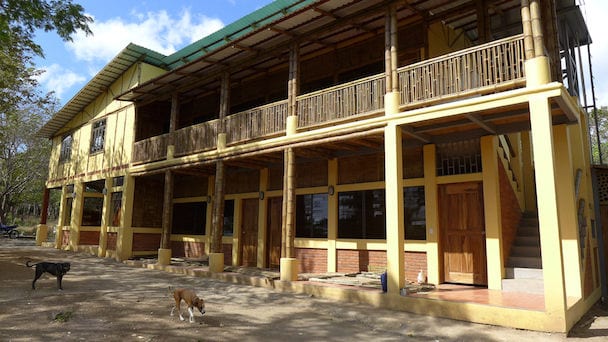 HAVANA TIMES – The inauguration of a new facility in San Juan del Sur, donated by an international NGO to a free adult education program, brought together three people who apparently were never supposed to coincide in the same place: writer Sergio Ramirez; Jose Maria Guadamuz, secretary of the municipal council of the Sandinista mayor's office; and the municipal delegate for the Ministry of Education Dorquis Muniz.
The ceremony took place on February 11 when the doors were opened to the school building constructed of bamboo and including four classrooms, a library and a computer lab.  Ramirez had been invited by Margaret Morganroth Gullette, the project's promotor, to give the inaugural address.
The award-winning novelist and intellectual, who is also a critic of the authoritarian regime of comandante Daniel Ortega, spoke about the educational work of this Saturday academy for adults, founded 15 years ago and located in a rural community some four kilometers from the tourist beach area.
Two weeks later, a sudden order originating in the office of Vice President Rosario Murillo, who controls the Ministry of Education and the mayor's offices, effected the dismissal of Guadamuz and of Muñiz, from their posts.  Their apparent crime was to have participated in the event despite having been warned not to do so because of Ramirez' announced presence.
The punitive decision has been catalogued by the writer as "obscurantist terror" and "persecution".
"This 'Christian, socialist and caring' government didn't put up a single Córdoba for this project.  However, it was logical to have the authorities from the Ministry of Education and the Municipal Council present. It was a day of celebration for all," Ramírez assured in a letter to the La Prensa newspaper.  In the same letter he further affirms that authorities in Nicaragua's schools and universities have an order "prohibiting" his entry to speak of his literary works.
"These officials were dismissed for the criminal fact of having been present when I was also there… The only thing lacking is for them to establish a defined circle around me within which militants from the official party shouldn't enter, in order not to be contaminated," Ramírez stated regretfully.
Ramirez classified the recent dismissals as "arbitrary", "capricious" and "an affront to human dignity."
"I barely exchanged a few words with them," clarifies Sergio Ramirez in his letter. "But I feel deeply grieved for their misfortune.  I'm in solidarity with them and I'm ashamed that such barbaric acts should occur in Nicaragua, where both they and I are equally Nicaraguans," he added.
The co-promotor of the project, Rosa Elena Bello, was also present at the event.  Bello is the former Sandinista mayor of San Juna del Sur, dismissed from her post in 2016 by order of the FSLN.
A pattern of removals
To Bayardo Salmerón, leader of the Local Development Network and specialist in municipal development, "This has been happening for a while, and could well be a pretext for the purification that will take place before the next municipal elections.  They have to do some purging to see who to reward and who not to reward," he indicated.
Municipalities such as Moyogalpa and Potosí have been left without a leader, in a methodology through which more than 30 mayors and assistant mayors have been separated from their posts since Comandante Daniel Ortega assumed power.
Salmerón believes that these officials probably weren't deemed "totally trustworthy" since "at any time exercising their freedom of opinion" they could defy "the general orders."
The specialist holds that under this administration it's been common to have the mayor and assistant mayors obligated to sign their resignation. In a municipality such as San Juan del Sur, "a key area for the Government and private capital, this would take place "notwithstanding the municipal autonomy."