Talks Continue in Nicaragua on Citizen Rights and Guarantees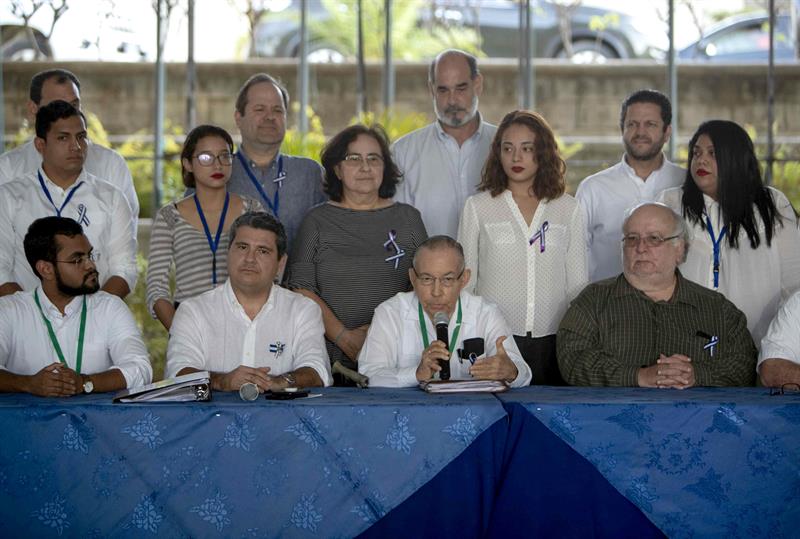 The Civic Alliance demands the return of confiscated media and access to ink and paper for newspapers
"We have resumed the discussions about liberties and citizen guarantees and we do not have agreements yet," said student representative Max Jerez on Tuesday.

HAVANA TIMES – The negotiations between the Civic Alliance for Justice and Democracy and the dictatorship of Daniel Ortega concluded on Tuesday another meeting without agreements on the restoration of citizen rights and guarantees.
"We have taken up the discussions about liberties and citizen guarantees and we do not have agreements yet," student representative Max Jerez, a negotiator of the opposition Civic Alliance, told reporters.
The parties have discussed since Monday the issue of strengthening citizen rights and guarantees, in the context of the crisis that has left hundreds of demonstrators dead, plus the missing, arrested and tens of thousands in exile, since April last year [when constitutional rights were virtually suspended in Nicaragua].
Jerez explained that at the negotiating table they are "seeking substantial and consistent agreements".
Attorney Jose Pallais, another of the Civic Alliance's negotiators, told reporters that they have advanced on more than half of the issues such as freedom of mobilization, assembly, organization, and freedom of the press and expression, which he said are "guaranteed in the Constitution."
The head of the American Chamber of Commerce of Nicaragua (Amcham), Mario Arana, another of the opposition negotiators, said earlier that in relation to freedom of assembly and mobilization, which Ortega's Police banned since last September except for pro-government activities, they consulted the laws and the Constitution to unblock that topic.
"Our approach is to recover all the freedoms that have been cut off: the freedoms of mobilization, assembly, organization, expression," he said.
Arana also assured that they have proposed to the government at the negotiation table the cessation of "harassment" of journalists and the media, and to release the ink and other raw materials to the newspapers that the General Customs Office has retained for six months.
The Government, for its part, has not stated what it expects in return for allowing the Constructional rights of freedom of mobilization, assembly, demonstration and press, and other citizen guarantees to be restored.
In addition, the negotiating table is still waiting for the International Red Cross to be incorporated to support the process of releasing the "political prisoners".
The parties agreed last Friday to reconcile the various lists of "political prisoners" before proceeding to their final liberation.