Tampa Bay Rays Program Begins in Havana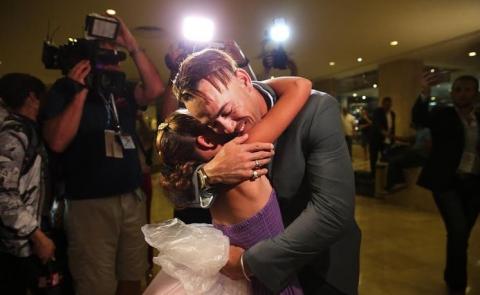 HAVANA TIMES — The Tampa Bay Rays and their delegation arrived on two flights Sunday afternoon and evening to Havana, the same day as US President Obama.
The first Major League Baseball team to play in Cuba since 1999 will face the Cuban national team on Tuesday March 22 at 1:50 p.m. local time, reported Ray Otero of Baseballdecuba.com.
The first group comprised of 85 persons landed in the afternoon and included the Rays owner Stuart Sternberg and other company executives including team president, Brian Auld, some sponsors, media and the Mayor of St. Petersburg, Rick Kriseman with his family.
The delegation was greeted with mojitos at the Melia Cohiba Hotel in Havana, where the players and the team leaders are staying.
The second group came in at 9:00 p.m. with all of the Rays players including Cuban outfielder Dayron Varona, who was emotionally greeted by his family that included his mother, sister and niece (pictured above) on arrival at the hotel around 11:00 pm, after two hours of waiting.
The calendar for Monday is full for the entire delegation. First there will be a press conference where several Rays players including Chris Archer, Evan Longoria and Kevin Cash will be present along with owner Stuart Sternberg; MLB officials, players from the Cuban national team, some legends of Cuban baseball, as well as special MLB guests incuding Cubans Luis Tiant and Jose Cardenal and the legendary shortstop, Derek Jeter.
After the press conference, the two squads will practice at the Latinoamericano stadium, followed by a clinic for children with Rays coaches, Cuban legends and the special MLB guests.
Later in the day the Rays players will get a chance to take a walking tour around the city.
For Tuesday, the highlight is the game set for 1:50 pm Havana and ET time. The US network ESPN will begin broadcasting from Havana with SportsCenter at 12:00 pm, and will follow with the "pregame" from 1:30 pm. ESPN Deportes in Spanish will also be covering the game.
The Rays brought with them a donation of baseball equipment purchased by the Tampa Bay players themselves as well as 50 boxes of gifts for children put together by catcher Rene Rivera and his wife Mariel Perez.