Terrorist Fence Buster Posada Acquitted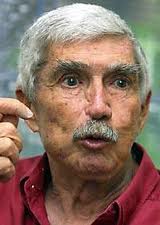 HAVANA TIMES, April 9 — In the eyes of the US justice system, fugitive plane and hotel bomber Luis Posada Carriles, 83, has a clean slate.
Finally taken to court for lying to US immigration officials about how he snuck into the United States back in 2005, Posada, a long-time CIA operative, will continue to live freely in Miami.
Wanted in Venezuela and Cuba for the many deaths occurring in bombings he allegedly organized, Posada was acquitted on all 11 counts of perjury, obstruction of justice and immigration fraud after a 13-week trial, considered a farce by Cuba.
The headline of Cuba's official Granma daily on Saturday reads: "Mafia Justice: Posada Carriles acquitted of all charges."
Posada's "greatest feat" in his war against Castro's Cuba, was the 1976 bombing of a civilian Cuban airliner that killed all 73 persons on board. He played a role in the Iran-Contra affair as well as in numerous political killings in several Latin American countries.
The hero of the hardcore Miami Cuban exile community illegally entered the US in 2005, months after receiving a pardon from outgoing Panamanian president Mireya Moscoso. Posada and three accomplices had been jailed for events surrounding an assassination attempt on Fidel Castro at an Ibero-American summit in Panama.
For detailed information on the Luis Posada Carriles case see: http://en.cubadebate.cu/category/series/el-paso-diary/