The EU sanctions Venezuela's "#2" Diosdado Cabello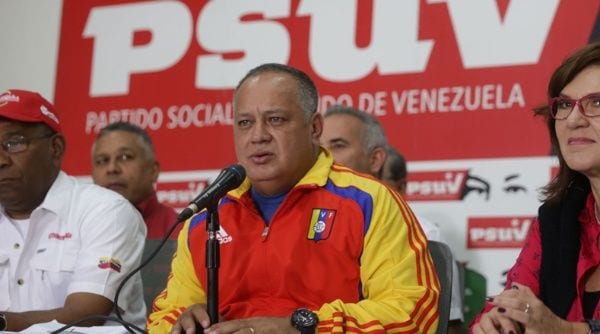 HAVANA TIMES – The European Union (EU) agreed today to sanction the "number two" figure of the government of Venezuela, Diosdado Cabello, and six other senior officials in response to president's Nicolas Maduro's repression against the opposition in the South American country, reported dpa news.
Those affected, among whom are also the Minister of the Interior, Nestor Reverol, and the intelligence chief, Gustavo Gonzalez Lopez, they will be prohibited from traveling to EU territory and will see their assets frozen in those member countries.
The list is completed by the former commander of the National Guard Antonio Benavides, the president of the National Council Electoral (CNE), Tibisay Lucena, the president of the Supreme Court, Maikel Moreno, as well as Tarek William Saab, who replaced Attorney General Luisa Ortega after her flight from the country.
The sanctions are a response of the EU to the action of the Government against the opposition, which it considers illegal. They also accuse Maduro of wanting to transform his country into a dictatorship.
The controversial election of a Constituent Assembly last July was accompanied by allegations of fraud and violent protests. This was in addition to the demonstrations that occurred at the beginning of the year in which more than 100 people died.
The oil-rich nation is also mired in a serious economic crisis and shortages after years of mismanagement and as a result of the fall in oil prices.
As early as November, the EU had agreed to an arms embargo against Venezuela. The decision to deepen the sanctions now will be officially adopted and will enter into force immediately on Monday at a meeting of the foreign ministers of the bloc.