The Oakland Youth Symphony Orchestra Bids Farewell to Cuba
Yusimí Rodriguez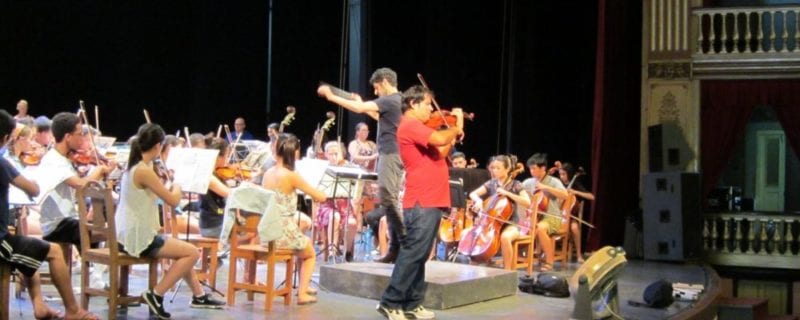 HAVANA TIMES – With a beautiful, applauded … and little promoted concert at the Covarrubias Hall of the National Theater of Cuba, the Oakland Symphony Youth Orchestra performed their finale on July 16th.
The Youth Orchestra came to our country on July 7, and gave concerts in Cienfuegos, Santa Clara and finally, in Havana. On Saturday, hours before the presentation, the director of the orchestra, Omid Zoufonoun, was interviewed briefly on the midday Cuban TV news. In this way several people decided to go to the concert.
Saturday's program was the same as the previous two concerts, with the only difference Alma Dei Creatoris piece, KV 277, by Wolfgang Amadeus Mozart (1756-1791), played by the orchestra and Cuba's Schola Cantorum Coralina, directed by Maestra Alina Orraca.
Then the young orchestra played Candide, by the US opera composer, pianist and conductor Leonard Bernstein (1918-1990), known among Cubans, especially for West Side Story. Master Zoufonoun considers it a fast, intense and very rich piece from a rhythmic point of view.
Then came the turn of the second collaboration of the night with a Cuban musician, something Zoufonoun highly valued. It was a movement of Violin Concerto No. 4 Op 31 by Belgian composer and violinist Henri Vieuxtemps (1820-1861), and Cuban violinist Sarduy Ariel Mendez took to the stage. The interpretation of this piece of high drama, described at the time by the French composer Hector Berlioz Louis as "a symphony for violin", was widely applauded by the public, and some even got up from their seats.
With the same intensity, was applauded the execution of Polovtsian Dances from the opera Prince Igor by the Russian composer Borodin Aleksandr (1833-1887). The program closed with a gift for ballet lovers: Six selections from Romeo and Juliet, by the Russian Sergei Prokofiev also a melodic and beautifully executed piece, that drew a standing ovation.
In the hall was Maestro Guido Lopez Gavilan, who led the Youth Orchestra of Oakland, in his its first visit to Cuba in 1998. At that time, they performed pieces by George Gershwin, Amadeo Roldan and Guaguancó's own Guido López Gavilan. After greeting Master Zoufonoun, exchanging views and took a picture with him, he expressed satisfaction of seeing so young musicians play difficult pieces. The ages of the members of the Oakland Youth Symphony Orchestra are between 12 and 22 years.
Perhaps, in a future visit, Cubans will have the opportunity to hear compositions of Omid Zoufonoun, who is also an educator, bandleader, guitarist and an award-winning composer.