Thousands March in Costa Rica against Xenophobia and in Support of Nicaraguan Refugees
By Ernesto Ramirez (dpa)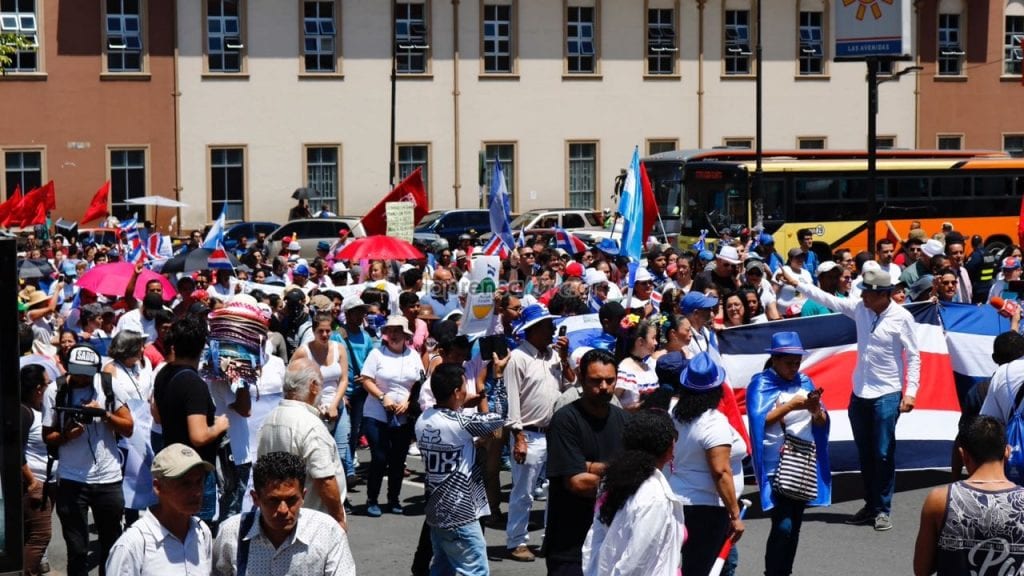 HAVANA TIMES – Some 3,000 people marched in San Jose, Costa Rica on Saturday against xenophobia and violence and in support of Nicaraguan refugees who are leaving their country in droves due to the political crisis.
The demonstration was called by the collective "Bienestar y Migraciones", (Well-being and Migrations) which brings together a dozen non-governmental organizations and academic and intellectual sectors of Costa Rican society.
To the cry of "no to xenophobia, yes for peace and love," the demonstrators gathered in the Plaza de la Democracia, in the heart of San Jose, after entering from two different points of the capital.
The demonstration came a week after some 500 people, convened by social networks, marched on August 18th in San José in rejection of the Nicaraguan immigration.
That protest degenerated into riots, attacks on the refugees, passers-by and the Police, who arrested 44 people and seized several homemade bombs, knives and sharp objects.
During the demonstration on Saturday, slogans were heard such as "ticos y nicas somos hermanos", y "viva la hermandad" (Ticos and Nicas are brothers and sisters" and "Long live the fraternal ties." Artists sang, in the Plaza de la Democracia, songs alluding to the friendship between the two countries.
"Saturday's march, which was supported by Costa Rican President Carlos Alvardo, was a success, and it has shown that we are much more against xenophobia than those who support violence," said Carlos Sandoval, academic, communicator and political analyst.
"This is a message to the world that we Costa Ricans want peace and we reject discrimination," Sandoval added.
Tens of thousands of Nicaraguans have fled to Costa Rica since April 18, when a chain of protests broke out against the government of President Daniel Ortega, repressed with deadly violence and persecution.
The action of the Nicaraguan police and paramilitaries against the opponents has left over 330 dead in four months, according to independent organizations, at least 2,500 wounded and hundreds of detainees and disappeared.
"This is a way to show that most Costa Ricans do not want xenophobia," said Anthony Marin, a participant in the march.
"This is a no to xenophobia, discrimination and racism. We live in a world that belongs to everyone, and where we all fit," said Isabel Zuniga, a Nicaraguan woman who has been living in Costa Rica for 25 years.
Due to the crisis, at several points of the common border, dozens of Nicaraguans congregate every day in community care centers, churches and hospitals, in search of attention.
The Government of Costa Rica set in motion an inter-institutional commission to monitor this new wave of migrants from the neighboring nation.
President Carlos Alvarado has called on the population to remain calm and not to incite hatred and rejection of immigrants.