Thousands March in Nicaragua Demanding Release of Political Prisoners
By Gabriela Selser (dpa)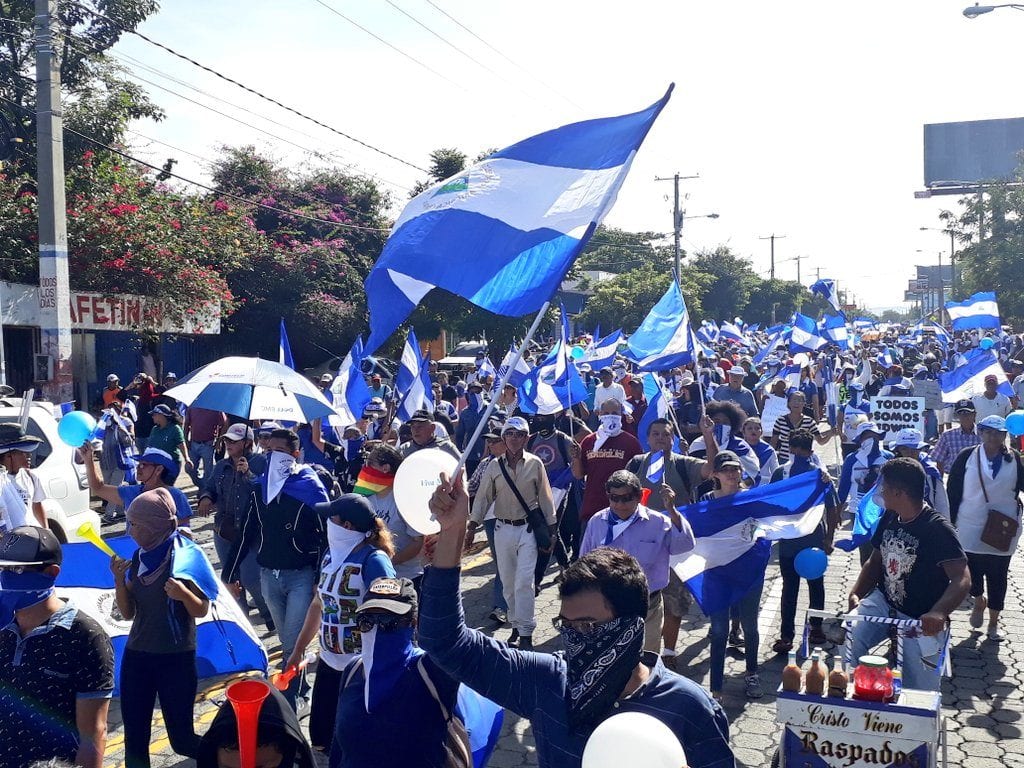 HAVANA TIMES – Thousands of protesters marched again Thursday in the capital of Nicaragua, to demand the release of more than 300 persons imprisoned for participating in protests, while the opposition Civic Alliance announced that it seeks unity with other political and social forces against the government of Daniel Ortega.
Carrying flags of Nicaragua and banners asking for "freedom for political prisoners", protesters of different ages peacefully walked several kilometers through the city, sounding vuvuzelas and chanting anti-government slogans.
The protest was called under the slogan "We're winning!" by the Civic Alliance and had to modify its original route due to the presence of police and government supporters menacingly gathered on some corners and roundabouts with flags of the Sandinista Front party. No incidents were recorded.
Among the participants were the parents of journalism student Elsa Valle, 18, who has been imprisoned since July. "Freedom, freedom," exclaimed Carlos Valle, raising a giant poster with his daughter's face.
"Fewer political prisoners, more politician prisoners," proclaimed a poster in the hands of a middle-aged woman. Beside her, a couple of teenagers showed signs with photos of their brothers who are also in jail for protesting against Ortega.
Other marchers chanted slogans such as "They were students, they were not criminals" and "They're going, they're going", in reference to Ortega and his wife, Vice President Rosario Murillo.
The demonstration occurred in protest of the unstoppable wave of students being abducted by paramilitaries and the police. According to the university leader Jean Carlos Lopez, 10 to 12 young people have been arrested per week in the current stage of the repression.
After arresting dozens of participants in the street protests, the police are now focusing on rounding up the leaders of the Student Movement, Lopez said.
"It is clear that now they are after the university leaders, they say that after Edwin Carcache (student leader arrested 10 days ago) I'm next," said the young man.
A score of university leaders have been arrested since the protests began last April. Several more fled into exile and others live in hiding or semi-clandestine because of the risk of imminent paramilitary and/or police detention.
Tortures including sexual abuse continue

A 16-year-old girl denounced this Thursday before the Permanent Commission of Human Rights (CPDH) that she was beaten and sexually abused by police officers and hooded men leaving a cybercafé on Tuesday in Ciudad Sandino, west of Managua.
"Four men began to grope me, there was not a single place where they did not touch me, they grabbed me to their liking and whim," said the young woman. She added that several of the supposed police officers had a Cuban accent and said words like "subir chica", "parriba" or "tírala pa'lante", (Cuban slang) she told the digital publication "Article 66".
In search of opposition unity
Meanwhile, in a press conference leaders of the Civic Alliance revealed that they have initiated a "process of building unity" and "consensus" with other social and political organizations.
The coalition issued a proclamation announcing that they have held meetings with national and local entities to "recover the republic and be able to live without persecution or crime."
"We are in this process of unity to build an authentic democracy in which human and citizen rights are guaranteed, and where freedom of expression, association and political participation and social justice with true inclusion exist," said the text.
The Alliance added that its intention is "to work for an end to the repression, the release of all political prisoners and the disarming of paramilitary forces, and the impartial investigation of the events that have taken place, and the commitment to justice for all people. without distinction".
They also intend to find a solution to the crisis "by holding free and observed early elections," said the proclamation, read by Professor Carlos Tunnermann.
The press conference was also attended by the lawyer Azahalea Solís, representative of the alliance for civil society; Juan Sebastián Chamorro, from the private sector, and student leaders Giancarlo Lopez and Harley Morales.
The members of the alliance formed by students, business people and civil society did not reveal which social groups or what political tendencies they have been talking about.
For her part, Vice President Murillo in her usual daily statements announced that the government will celebrate the Central American Independence Day with a holiday that begins tomorrow, Friday.
Murillo said that they also celebrate "the recovery of peace" and that the country has returned to normal five months since the beginning of the crisis. "They could not … They could not destroy us, they cannot, they beat us but they did not defeat us, because love is stronger than hatred," she added.
[Editor's note: In contrast, Miss Teen Nicaragua 2017 shaved her head in demand for the freedom of hundreds of political prisoners. The acts of courage and commitment of Nicaraguan youth, once considered apathetic and apolitical, has surprised and motivated a large part of society.]