Trump Ally Joins Congressional Delegation to Cuba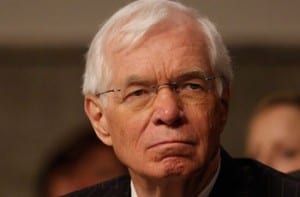 HAVANA TIMES — A delegation of four senators and one representative of the United States Congress traveled to Cuba on Sunday, exactly a month after the arrival of a new president to the White House. One of the senators is a strong ally of
Republican Thad Cochran, from Mississippi, who has decisively endorsed Trump's initial decisions in the Senate, is among the delegation. The legislators are led by one of the main proponents of normalized relations with Cuba, Democratic Senator Patrick Leahy (Vermont), notes the Cuban-US Economic and Trade Council.
The remaining members of the delegation are Senators Michael Bennet (D-Colorado) and Tom Udall (D-New Mexico), as well as Rep. Jim McGovern (D- Massachusetts).
Except for Cochran and Bennet, the remaining legislators have visited the island on previous occasions.
The program for their visit to Cuba was not disclosed. The group is scheduled to leave the island on Wednesday, February 22nd.
Sales on credit

Cochran, the only Republican in the group, is a co-sponsor in the Senate of a bill providing for the Expansion of Agricultural Exports to Cuba. The legislation would eliminate the prohibition of granting private credit to finance agricultural sales to the island and thus seek greater access by US farmers to the Cuban market.
The bill is bipartisan and was introduced by Senators Heidi Heitkamp (D-North Dakota) and John Boozman (R-Arkansas.).
Cochran chairs the Senate Appropriations Committee and has voted in favor of all those nominated by the president to his cabinet.
The congressional trip takes place over the Presidents' Day holliday and exactly one month after the inauguration of Donald Trump, who has promised to review the state of relations with Cuba.
Also in February, a delegation from the state of Mississippi, headed by Rosario Boxx, director of International Trade for the Development Authority in Mississippi, is scheduled to visit Cuba.
Mississippi is one of the states with the most commercial activity with Cuba and is among the suppliers of frozen chicken, the US product with the highest sales to the island during the past year.