Trump Demands Release of Venezuela Opposition Leader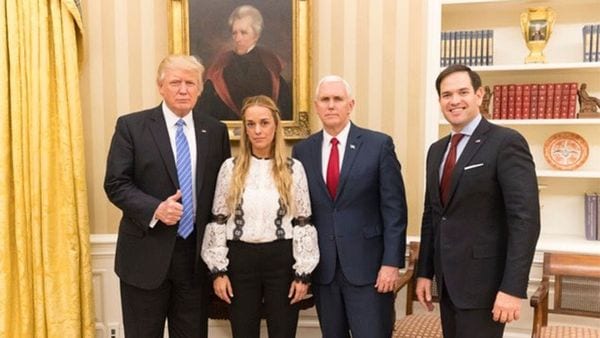 HAVANA TIMES  – Donald Trump met in Washington today with Lilian Tintori, the wife of the Venezuelan opposition leader Leopoldo López, and demanded his release from prison, reported dpa news.
"Venezuela should allow Leopoldo López, a political prisoner and husband of @liliantintori (I just met with Marco Rubio) to leave prison immediately," Trump published on his Twitter account.
In the photo of the meeting in the Oval Office appear Tintori, US Vice President Mike Pence, Florida Senator Marco Rubio and President Trump.
Lopez, leader of the Popular Will opposition party, is serving a sentence of nearly 14 years in prison for instigating the 2014 protests against the government.
It is the first time Tintori has been to Washington since Trump is president. During her visit she met with Thomas Shannon, the man Barack Obama sent to Caracas to support the dialogue between Maduro's government and the opposition in which Popular Will refuses to participate.
Shortly before the meeting, President Nicolas Maduro said today that Donald Trump wants to push him into a "total" confrontation with Venezuela and pointed out that he does not want fights with the new head of the White House.
"If you ask me, I would say that I do not want to fight with Mr. Trump. No. I say it from Venezuela, I want a relationship of respect, of dialogue, but it seems that they are pushing it and they are going to fall into the same hole that the Bush and the Clinton-Obama clan fell into, "he said during an act with the military to coordinate security operations and drug trafficking.
Maduro said that imperialism is "threatening" Venezuela. He was referring to the sanctions imposed on his executive Vice President Tareck El Aissami, who was added to the US Treasury Department's blacklist of "Kingpin" drug traffickers.