TS Andrea Forms North of Cuba Heading for Florida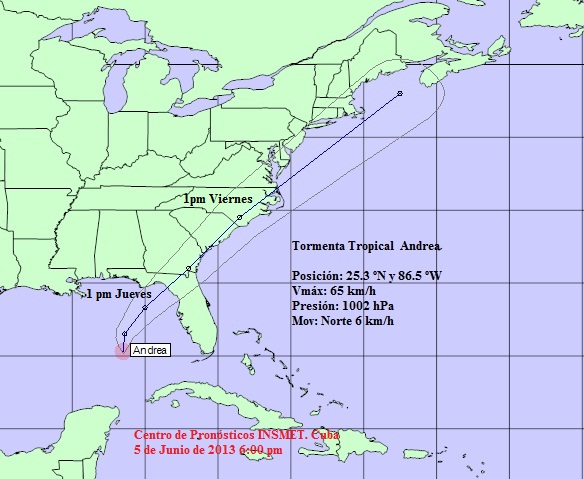 HAVANA TIMES — Tropical Storm Andrea formed on Wednesday northwest of Cuba in the Gulf of Mexico and is moving slowly north-northeast on a collision course with mid/north western Florida predicted for some time Thursday afternoon/evening.
The storm does not appear to pose any threat to Cuba, although some rains associated with the weather system have been falling in western Cuba, especially Pinar del Rio province.
At 6:00 p.m. Cuban time (EST) the Cuban Weather Service (INSMET) located the center of Tropical Storm Andrea, the first of the current hurricane season, at 500 kilometers (310 miles) southwest of Tampa and 510 kilometers south-southwest of Apalachicola, both in Florida.
Andrea is currently packing 65 k/ph winds (40 m/ph) and has a minimum central pressure of 1002 millibars.
At the time of the first INSMET advisory the eye of the storm was moving north at only 6 kilometers per hour (3.7 mph).
INSMET will issue a new advisory at 6:00 a.m. on Thursday.