TS Emily Tips Northwest Away from Cuba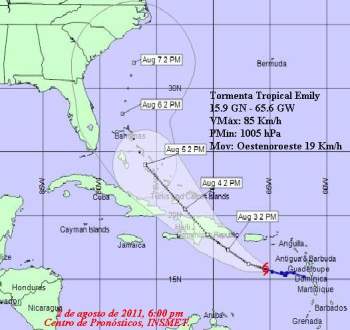 HAVANA TIMES, August 2 — Tropical Storm Emily tipped its course to the Northwest on Tuesday afternoon, informed the Cuban Weather Institute (INSMET).
The forecasters now see its center passing west and north of far eastern Cuba instead of approaching the tip of Guantanamo as projected early in the day.
Emily now packs 50 mph (80 kph) winds as it moves for a landing possibly in the south central/eastern portion of the Dominican Republic late Wednesday.
It is now projected to exit Hispaniola Island (shared by Haiti and the DR) near the northern border of the two countries sometime Thursday.
The National Hurricane Center in Miami has a Tropical Storm warning in effect for Puerto Rico, the DR and Haiti and a TS Watch has been called for The Bahamas..
At 6:00 p.m. EDT Emily was moving west-northwest at 12 mph (19 kph)