TS Erika Dissipates, Remnants Bring Rain to Parts of Cuba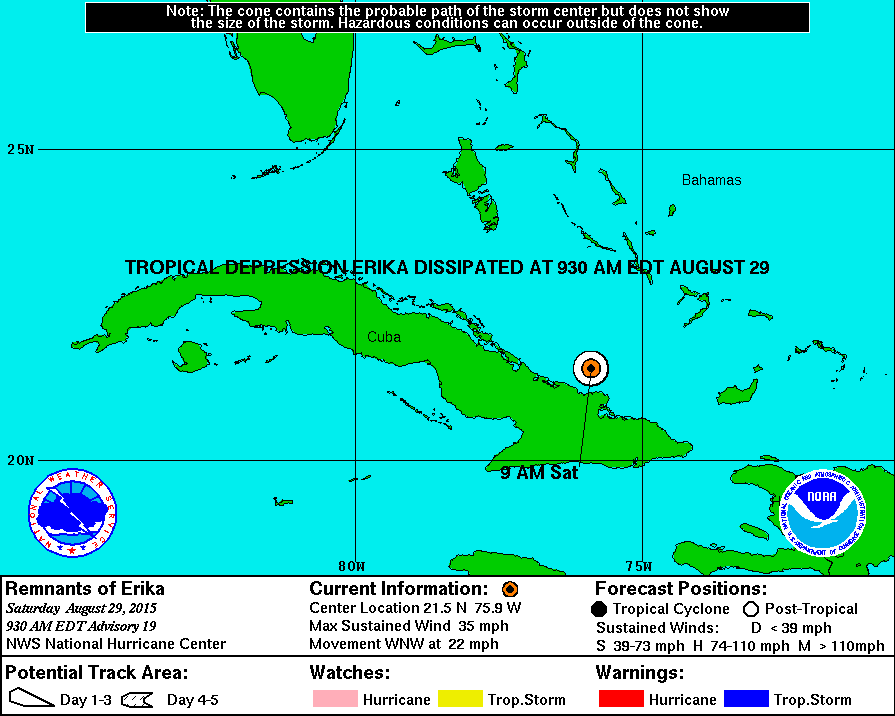 HAVANA TIMES — The National Hurricane Center (NHC) in Miami informed at 9:30 a.m. on Saturday that Tropical Storm Erika has dissipated in its approach to Cuba. The report had the remnants of the storm about 130 miles east of Camaguey.
The remnants of Erika still pack maximum sustained 35 mph winds with higher gusts and are moving swiftly west-northwest at 22 mph. Gusts up to tropical storm force can occur on Saturday in Eastern Cuba.
The NHC notes that what's left of Erika is expected to produce total rainfall accumulations of 3 to 6 inches across portions of central and eastern Cuba through Sunday.
At 9:00 a.m. the Cuban Weather Service (INSMET) noted that rains were falling on the provinces of Santiago de Cuba and Guantanamo and would extend to Granma and Holguin. Warning to be on alert for flooding, the forecasters said the rains could be heavy and locally intense, especially in mountainous areas.
INSMET adds that the rains will gradually extend to Villa Clara and Cienfuegos on Saturday as the remnants of Erika move west.