TS Gonzalo Forms, Cuba Off Its Path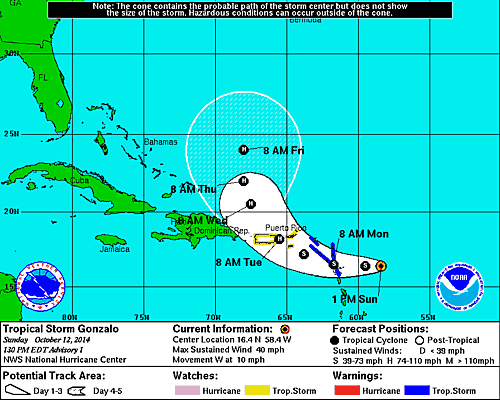 HAVANA TIMES — Tropical Storm Gonzalo was born today east of the Caribbean. According to the initial projection of the National Hurricane Center (NHC) in Miami, it could become a hurricane by Tuesday near Puerto Rico. Cuba is not on the map of this cyclone.
At 2:00 EST on Sunday, the center of Gonzalo was located just under 200 miles (320 kms) east of Guadalupe Island, reports the Cuban Weather Service (INSMET). It was moving west at a speed of 11 mph (17 kph) and had maximum sustained winds of 40 mph (65 kph).
The Cuban meteorologists said the storm will maintain its path west and could gain in strength during the next 12 to 24 hours.
According to the NHC, the islands under a tropical warning are:
* GUADELOUPE
* DESIRADE
* LES SAINTES
* MARIE GALANTE
* ST.MARTIN
* ST. BARTHELEMY
* ST.MAARTIN
* SABA
* ST. EUSTATIUS
* BARBUDA
* ANTIGUA
* ANGUILLA
* ST. KITTS
* NEVIS
* MONTSERRAT
A Tropical Storm Watch is in effect for…

* PUERTO RICO
* VIEQUES
* CULEBRA
* U.S. VIRGIN ISLANDS
* BRITISH VIRGIN ISLANDS
A tropical storm warning means that tropical storm conditions are expected somewhere within the warning area…in this case within the next 24 to 36 hours.
A tropical storm watch means that tropical storm conditions are possible within the watch area…generally within 48 hours.