TS Isaac hits Cuba, Florida Keys next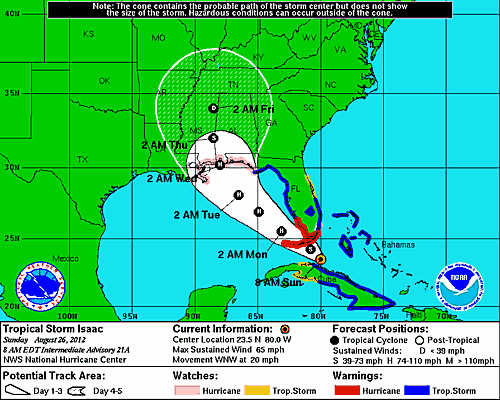 HAVANA TIMES (dpa) — Tropical Storm Isaac swept over eastern Cuba Sunday, bringing heavy rains and strong winds a day after hitting Haiti. It was expected to next head towards the Florida Keys.
The National Hurricane Centre (NHC) in Miami said Sunday that Isaac was 220 kilometres east-southeast of Key West, Florida, and 245 kilometres east of Havana, Cuba, at 1200 GMT, with sustained winds of 100 kilometres per hour (km/hr).
It issued a hurricane warning for the Florida Keys, west coast of Florida and Florida Bay, meaning that hurricane conditions were expected within the next 24 hours.
NHC said Isaac was "expected to be at or near hurricane strength when it reaches the Florida Keys."
The storm was projected to move into the eastern Gulf of Mexico on Monday.
At least two people were killed in Haiti Saturday and 5,000 were relocated, the Le Novelliste newspaper reported.
Haitian authorities had cleared 18 refugee camps set up after the devastating earthquake of 2010. An estimated 200,000 earthquake survivors still live in camps in the capital, Port-au-Prince.
The storm also lashed the neighboring Dominican Republic with torrential rains and winds of up to 100 km/hr before hitting Cuba.
While Cuban officials reported no major damage or casualties from the storm surge and floods in the east, residents and tourists sought safety in shelters. Crop damage can be estimated after the passing of the storm, which is still producing considerable rains over a wide area of the island.
Florida declared a state of emergency late Saturday to prepare for the storm. Isaac was forecast to stay west of Tampa – the venue of the Republican Party's presidential nominating convention – but was expected to strengthen over the warm Gulf waters into a hurricane.
Delegates from the 50 US states plus several territories will begin the four-day convention on Monday, officially opening before immediately adjourning until Tuesday afternoon as a storm precaution.