TS Karen Weakens on Gulf Coast Approach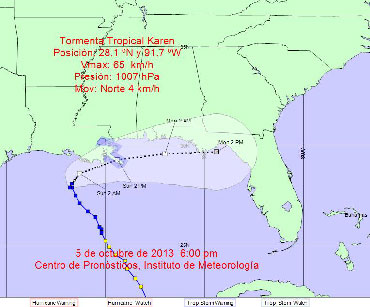 HAVANA TIMES — Tropical Storm Karen continued to weaken on Saturday as it approaches a first encounter with land in Louisiana.  The storm now packs 40 M/ph winds and is moving slowly north at 2.5 M/ph.
At 6:00 p.m. EST, the center of Karen was located 110 miles south-southwest of Morgan, Louisiana, reported the Cuban Weather Service (INSMET).
It is projected that in the next 24 to 48 hours, TS Karen will turn east along the Gulf Coast towards the Florida Panhandle and increasing its movement speed.
If it continues to weaken Karen could be downgraded to a tropical depression, noted INSMET.