Two hundred Colombians Arrive in Cuba to Study Medicine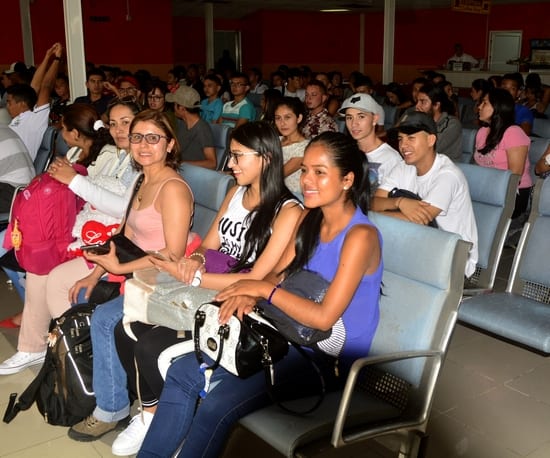 HAVANA TIMES  – Cuban authorities received in Havana on Sunday the first 200 Colombians out of a total of 1,000, who are going to study medicine on the island, reported dpa news.
Among the 200 Colombians arriving in Havana are members of the former Revolutionary Armed Forces of Colombia (FARC) who deposed their arms, as well as their children and relatives.
The daily "Juventud Rebelde" reported that the young people, will study at the Latin American School of Medicine (ELAM), according to an offer from the Cuban government "as a sign of its commitment to the achievement of peace in Colombia ".
Other young people from different sectors, who have been working in different jobs and living in different places around the country, are also part of the contingent, who on Sunday morning toured the ELAM facilities outside Havana, where they will begin studies in September .
Dr. Antonio Lopez Gutierrez, rector of the ELAM, welcomed them together with the Deputy Minister of Health, Marcia Cobas and other authorities.
"We come from many cities and are all together here," said two young people identified as Laura and Tania, from Arauca and Huila, a nurse and the other one who recently graduated from high school, told the newspaper.
Leonidas Buitrago, a veteran ex-guerrilla, explained that the process was simple: "The information arrived (from the scholarships) to the demobilization zones, we delivered the required documentation and we demonstrated that we fulfilled the requirements".
According to one of the new arrivals, before traveling to Havana they signed a "code of ethics" at the headquarters of the Cuban embassy in Bogota.
Cuba and Norway participated as guarantors, and Chile and Venezuela as escorts, in the peace dialogue of more than four years that was sealed with an agreement in November 2016 between the FARC and the government of President Juan Manuel Santos.
The process, with ups and downs, sought to end a bloody armed conflict of more than 50 years that left a balance of between four and five million displaced and 220,000 dead and 25,000 missing.