UN Calls for Urgent Action to Address the "Repression" in Nicaragua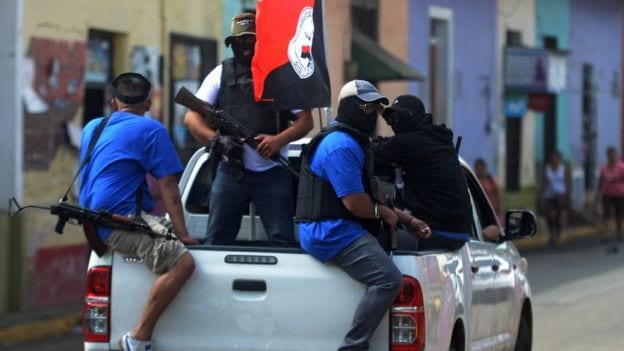 HAVANA TIMES – The UN today called for urgent measures to address the human rights crisis in Nicaragua, where it denounced "repression and reprisals" against protesters who have protested against the government of President Daniel Ortega since April.
"Repression and reprisals against demonstrators continues in Nicaragua, while the world looks away," denounces the Office of the United Nations High Commissioner for Human Rights (OHCHR) in a statement published in Geneva.
The crisis in Nicaragua erupted on April 18 with a student protest against a social security reform decree. The demonstrations heated up considerably after the violent action of the Police and the Army. Today, human rights organizations place the number of dead since the beginning of the crisis at over 330, way over two thousand injured, and hundreds detained and disappeared.
"The violence and impunity of the past four months have highlighted the fragility of the country's institutions and the rule of law, and have generated a context of fear and distrust," adds the head of the institution, Zeid Ra'ad Al Hussein.
Faced with this high degree of repression, many people who participated in the protests or simply defended the rights of protesters or expressed dissenting opinions have been forced to hide or to flee the country, the text points out.
Al Hussein called on the Human Rights Council and the international community to take "specific measures" to prevent even more serious social and political unrest, as well as to demand responsibility for violations and human rights abuses and to provide reparations to the victims.
The UN report documents, between April 18 and August 18, violations and the disproportionate use of force by police ranging from arbitrary and widespread arrests, torture and ill-treatment, to forced disappearances and extrajudicial executions, as well as violations of the right to freedom of opinion, expression and peaceful assembly.
The text speaks of two phases of crisis: the first, until mid-June, of repression of protests by the police and "pro-government armed elements" and a second "cleansing", in which the police and "armed pro-government forces" (paramilitary) violently dismantled the defensive barricades and roadblocks installed by the demonstrators.
According to the UN, the armed civilians act with the approval and even coordinated with high-level state authorities and the National Police.
"Although the government no longer denies the existence of pro-government armed civilians, it does approve their actions and allows them to operate with impunity," denounces the text.